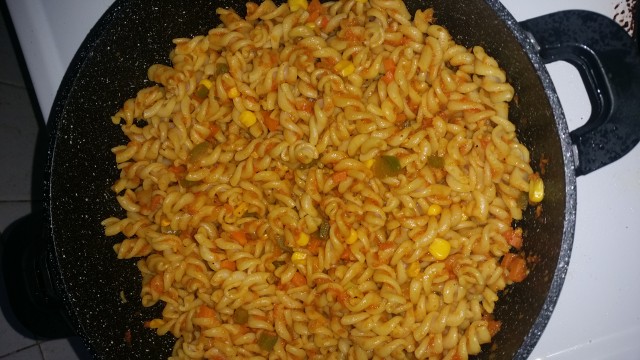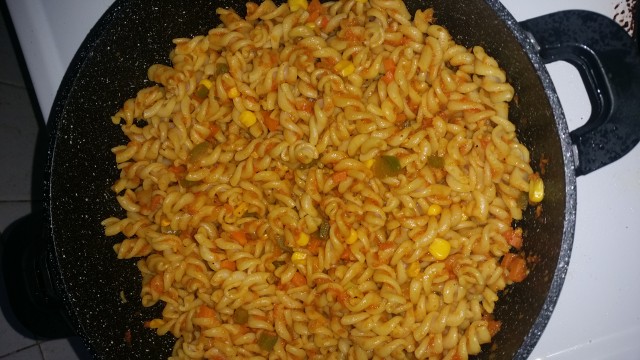 INGREDIENTS
- 1 ½ cup pasta
- ½ teaspoon grated / crushed ginger
- 1 ½ teaspoon grated / crushed garlic
- 1 small onion chopped
- 1 cup blended tomato
- 3 tablespoon whole kernel
- ¼ cup chopped green pepper
- 2 tablespoon chopped carrot
- salt to taste
- ½ teaspoon garam masala powder
- ¼ teaspoon tumeric powder
- 1 tablespoon tomato sauce
- ¼ teaspoon oregano (optional)
METHOD
Boil the pasta till done. Keep aside
In a pan, add some oil. Fry the ginger and garlic.
Add the onion and braise.
Add the tomato puree, reduce to medium heat and cook for 3-4 mn
Add the whole kernels, green pepper, carrots and cook for 3-4 mn.
Add the salt, tumeric and garam masala. Mix well.
Add the tomato sauce. Mix
Add the oregano and mix.
Finally add the pasta and leave it to cook for 2-3 mn.

INFO / TIPS / CREDITS
- Recipe credit : KK'S kitchen
Comments ordered by Newest
---