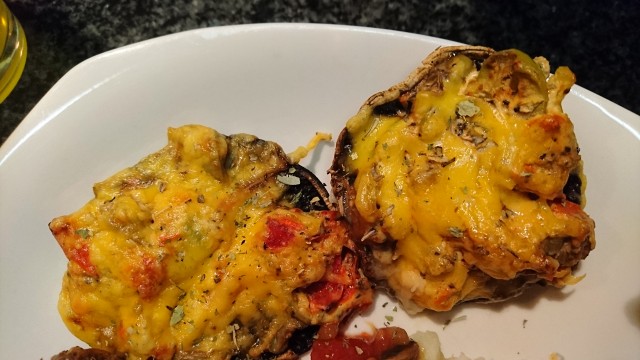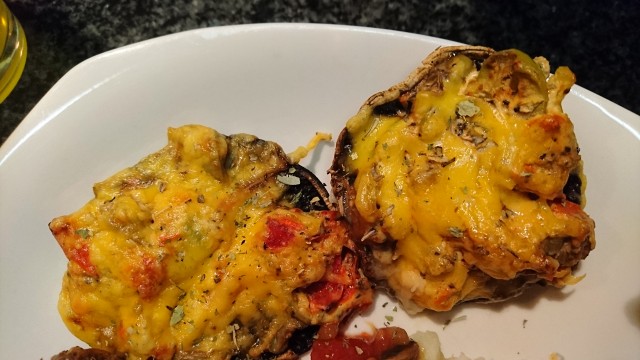 INGREDIENTS
Large brown mushrooms
2 tablespoons cream cheese
Olives
Pepperdews
Pepper
Salt
1 teaspoon crushed garlic
1 teaspoon lemon pepper
1 teaspoon lemon juice
Robertsons zesty lemon
Cayenne pepper to taste

Cheese
METHOD
Gather all your ingredients because it's a quick recipe. Preheat your oven to 180. So let's start.

Chop Olives and Pepperdews and place in a bowl. Add all the spices. Mix well to fuse all ingredients together . Clean the mushrooms and take off the stem. Chop up the stem and add it into the bowl with the green and red speckled goodness.

Take the flat tops of the mushrooms and add it in a baking tray. Sprinkle with salt and pepper and roast for about 5 minutes in the oven. Heat a pan with a little olive oil and allow the mixture to cook and mix together. A wonderful aroma of spice will welcome you. When the mushroom stems have withered and melted in well, add in the cream cheese. Mix well allowing it to melt and share it's cheesy goodness. Once mixed and melted in leave it to cool. Take the mushrooms tops and generously spread the mixture over. Top with the extra cheesy grated cheese and bake in the oven for 10 minutes. Sprinkle parsley over when done. Serve immediately. Delicious and loves by all.
INFO & TIPS
Adjust seasonings as you wish. You can leave out the olives and add extra lemon juice. I tried cottage cheese but prefer cream cheese. Sweetcorn the creamstyle one is also an option.
Comments ordered by Newest
---