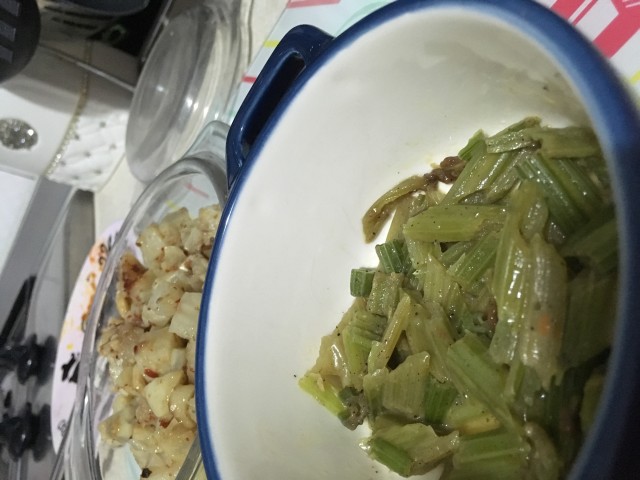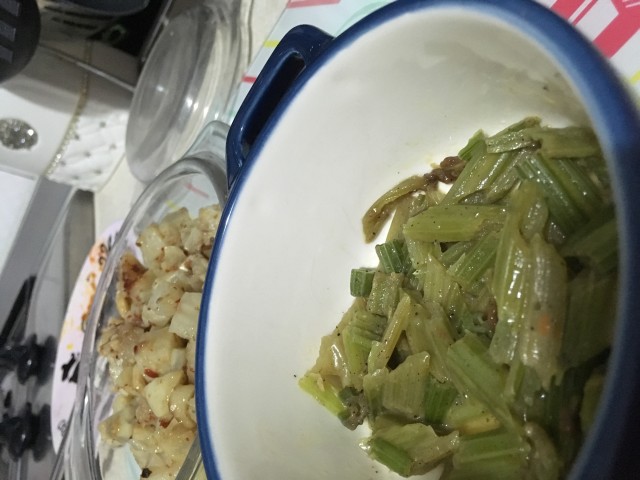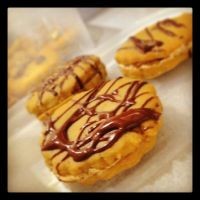 ---
Chef and Owner : Taste of Home , delivering delicious work lunches (based in Istanbul, Turkey)

Active recipe sharer and reviewer - using contempor...
Joined 6 years ago
Taskeen Jamal Karim's profile
INGREDIENTS
Cubed Celeriac
5 tablespoon olive oil
4 garlic cloves, very finely sliced
2 red chillies, deseeded and finely chopped (I used crushed chillies instead)
few sprigs of thyme (dry kind works as well)
2 small or 1 large celeriac, peeled and cut into 1cm cubes

Braised Celeriac
8 stalks of celery, scrubbed and ends trimmed (chop and reserve leaves)
1 tablespoon butter
Pinch of salt and freshly ground black pepper
½ cup of vegetable stock
METHOD
Cubed Celeriac
1. Heat the oil in a shallow pan and sizzle the garlic for 1 minutues until fragrant. Add the chilli, thyme and celeriac. Toss everything to coat in the oil, then season with salt.
2. Turn the heat down to a minimum, cover the pan and cook everything really gently for 20-30 minutes or until soft enough to squash. Stir occasionally and add a bit of water if it starts to catch.
3. When cooked, crush the celeriac lightly with a wooden spoon and serve. The celeriac may now be left to cool in the pan – reheat on the hob with a drizzle more oil.

Braised Celeriac
1. Cut celery into 1-inch slices on the diagonal.
2. Heat butter in a large skillet over medium heat. Add celery, along with salt and pepper and cook until it starts to become tender.
3. Add broth, reduce heat to low, cover and simmer for 5 minutes. Uncover and cook for 5 minutes longer, allowing the broth to reduce caramelize a bit.
4. Taste for seasoning and serve immediately, garnished with reserved chopped leaves.
Comments ordered by Newest
---