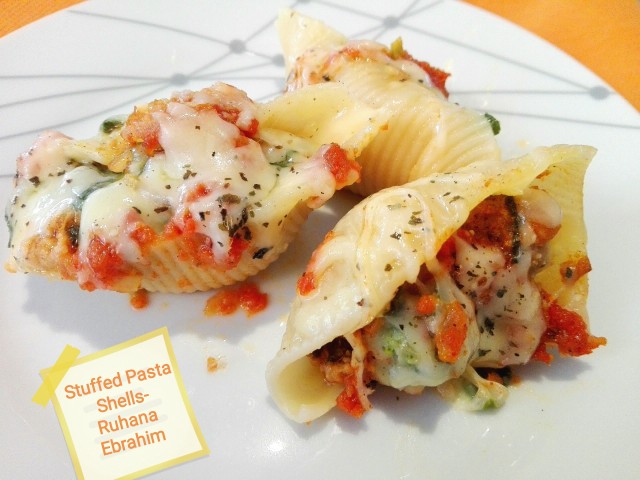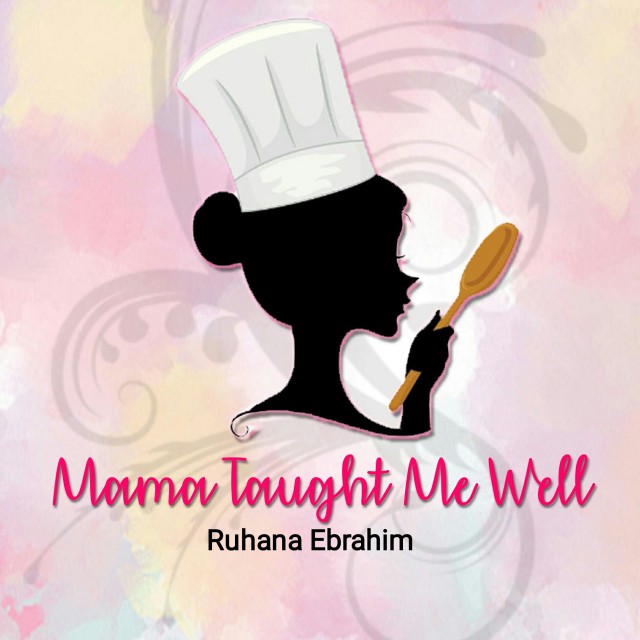 Ruhana Ebrahim
Grand Master
Interior Decorator.
Foodie!
Food styling.
Fusion Cooking.
Recreational baker.
Food Author of "Oh My Cupcakes!"
Mum and wife.
(Another 2 books on the way Insha Allah!)
---

South Africa
Joined 6 years ago
---
@mama_taught_me_well
RECIPE
RUHANA's Stuffed Pasta Shells:
(Serves 6)

Rec cred: Ruhana Ebrahim
Pic cred: @mama_taught_me_well

Ingredients:
Filling 1-
1 kg chicken fillet (finely cubed),
2 tablespoon butter,
1 teaspoon salt,
1 teaspoon rough red chillies,
1 teaspoon dhana Jeeru (Cumin) powder,
1 tablespoon crushed garlic,
2 tablespoon lemon juice,
1 teaspoon ground green chillies,
1 tub cream cheese or ricotta cheese,
1 tub chunky cottage cheese,
2 punnets button mushrooms (sliced).

Filling 2-
2 boxes Mc'Cains creamed spinach,
Salt & Pepper (to taste).

Topping-
1 medium onion (sliced),
2 tablespoon oil,
3 large tomatoes (liquidized),
½ teaspoon salt,
½ teaspoon black pepper,
1 teaspoon chilli powder,
Pinch turmeric powder,
½ teaspoon dhana Jeeru (Cumin) powder.

Pasta-
500g pasta shells.
1 teaspoon rough salt,
Drizzle oil.

Garnishes-
Mozzarella cheese (grated),
Gouda/cheddar cheese (grated),
Parmesan cheese,
Dry sweet basil,
Fresh basil leaves.

Method:
1. Boil pasta for 5min, must be cooked al-dente.
2. Arrange shells next to each other in casserole dish to be stuffed.
3. Heat butter, saute garlic, add chillies, lemon and spices with chicken.
4. Once water is cooked out, add cream cheese/ricotta and button mushrooms. Cook till mushrooms are tender.
5. Then add cottage cheese and mix in. Leave aside.
6. Cook spinach according to package instructions and season with salt and pepper.
7. Spoon chicken into shells, filling halfway.
8. Spoon spinach into shells.
9. Make a wet tomato chutney, by braising sliced onion in oil, adding liquidized tomatoes and spices. 
10. Spoon chutney over stuffed shells.
11. Sprinkle cheeses and dry sweet basil. 
12. Cover with foil and bake in preheated oven at 180degC for 30min.
13. Remove foil.
14. Arrange fresh basil leaves over cheese and bake for 5min.
15. Serve whilst hot.
POSTED ON
16 Nov 2017
WOULD YOU LIKE TO ?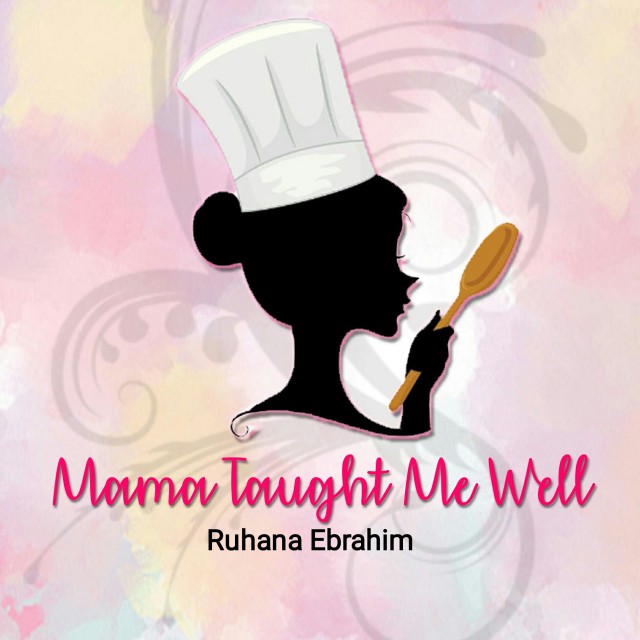 Ruhana Ebrahim
Grand Master
Interior Decorator.
Foodie!
Food styling.
Fusion Cooking.
Recreational baker.
Food Author of "Oh My Cupcakes!"
Mum and wife.
(Another 2 books on the way Insha Allah!)
---

South Africa
Joined 6 years ago
---
@mama_taught_me_well
COMMENTS
You May Also Like
Suggest Recipes