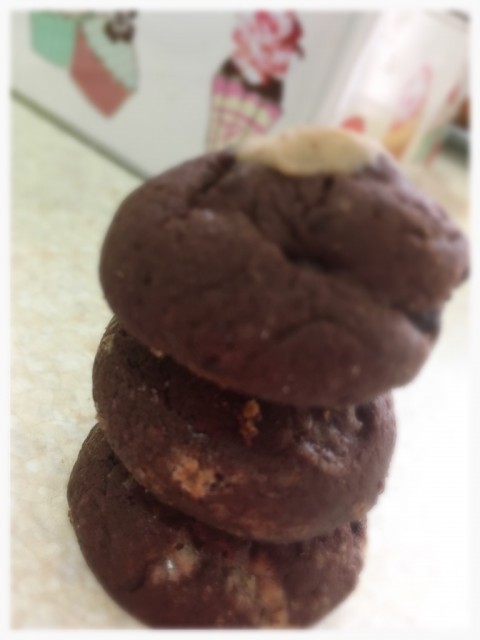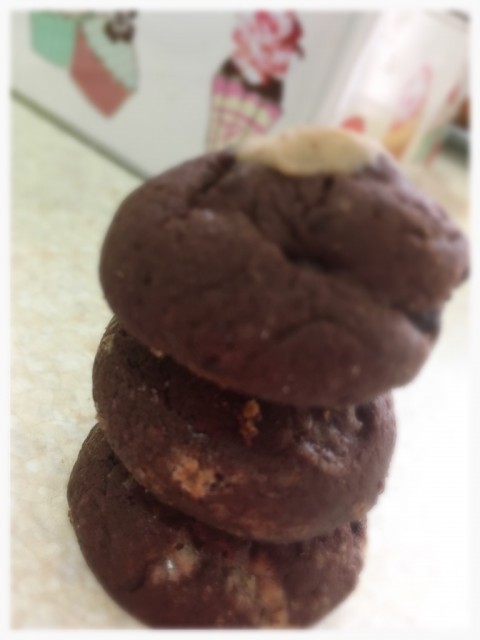 1
favs
0
coms
1,172
views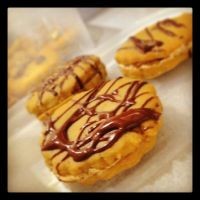 Taskeen Jamal Karim
SOUS CHEF
37
93,187
23
Chef and Owner : Taste of Home , delivering delicious work lunches (based in Istanbul, Turkey)

Active recipe sharer and reviewer - using contempor...
INGREDIENTS
2 cups all-purpose flour
¾ cup unsweetened dark cocoa powder
1 teaspoon baking soda
1 teaspoon baking powder
1 teaspoon salt
½ teaspoon instant espresso powder/coffee
¼ teaspoon ground cinnamon
1 cup unsalted butter, room temperature
¾ cup granulated sugar
¾ cup light brown sugar, packed
2 large eggs
1 teaspoon vanilla extract
1½ cups dark chocolate chunks
salted caramel, recipe follows
coarse sea salt or rock salt, for sprinkling

SALTED CARAMEL SAUCE
1 cup sugar
¼ cup water
¾ cup heavy (double or pouring) cream
4 tablespoons unsalted butter
1 teaspoon coarse sea salt
1 teaspoon vanilla extract
METHOD
COOKIES

1. Preheat oven to 350°F. Line two baking sheets with baking paper and set aside.

2. In a large bowl, whisk or sift together the flour, cocoa powder, baking soda, baking powder, salt, espresso powder and cinnamon. Set aside.

3. In a large mixing bowl, cream together the butter and both sugars until light and fluffy, about 5 minutes.

4. Add the eggs one at a time, mixing well after each addition. Stir in the vanilla extract. Add the dry ingredients a little at a time, mixing until just combined after each addition. Fold in the dark chocolate chunks.

5. Using a small ice cream scoop or a tablespoon, scoop out the dough onto the prepared baking sheets, making sure they are all uniform in size so that they cook at the same time. If you're filling the cooking with the caramel, roll each dough into a ball with your palms. Flatten it out a bit, making an indentation in the center with your thumb. Fill it with a teaspoon or so of caramel and then fold over the edges of the dough onto the caramel. Roll into a ball once more and place on the baking sheet. (TIP: I found it hard to cover the caramel completely as it was hot so the caramel remained on top and didn't really look attractive after baking- next time I will not fill it but rather top with caramel when serving)

If you're not filling the cookies, then just scoop out the dough evenly spaced out and sprinkle with sea salt.

6. Bake for about 10 to 12 minutes or until somewhat set and crispy on the edges. Remove from the oven and allow to cool slightly on a wire rack, about 5 minutes.

7. Transfer the cookies to a wire rack and drizzle with more of the salted caramel before eating. Store any leftover cookies in an airtight container, at room temperature for up to 3 days. Re-warm before eating and drizzle with more caramel.

TIP: When serving, you may need to sprinkle over a little more rock salt as I find the salt dissolves quickly- it ain't salted caramel if it ain't got salt!

SALTED CARAMEL
1. Combine the water and sugar in a heavy duty sauce pot with high edges.
2. Place over medium-low heat and bring to a boil without mixing. Once boiling, increase the heat to medium-high, and cook until the sugar syrup turns an amber golden brown color, about 5 to 6 minutes.
3. Remove from the heat and carefully stir in the heavy cream. It will bubble and seize up a little but just keep whisking. If you find that the sugar isn't melting down, return the pot to a low heat and stir until the sugar chunks have dissolved.
4. Remove from heat once again and stir in the butter, salt and vanilla extract.
5. Allow to cool and then store in the fridge in an airtight container.
It will last about a week. (TIP: I also froze it successfully)


INFO & TIPS
I am never satisfied with products that claim to be "salted caramel" as inevitably it's too sweet and often does not have the special salt surprise it claims to have! Therefore making it yourself with guarantee the results you are looking for - super rich chocolate biscuit, topped with delicious caramel, ending in little bits of crunchy salt- all in perfect balance!

PS The caramel sauce has many uses - try it with bananas, over cake or any dessert.

Recipe credit: Thecandidappetite.com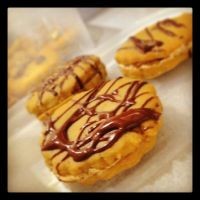 Taskeen Jamal Karim
SOUS CHEF
37
93,187
23
Chef and Owner : Taste of Home , delivering delicious work lunches (based in Istanbul, Turkey)

Active recipe sharer and reviewer - using contempor...
Comments
Ordered By Newest
---
Suggest Recipes
You May Like
Dark Chocolate & Salted Caramel Cookies is part of the
Biscuits & Pastries
recipes category
TAGS
caramel
chocolate
cookies
dark
halaal
jamal
karim
recipe
salted
taskeen