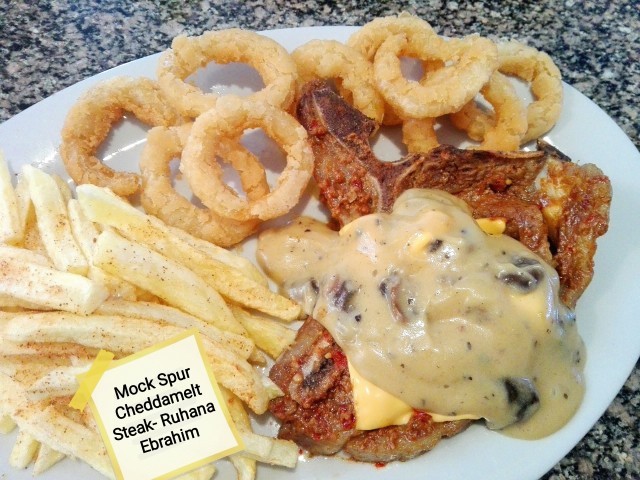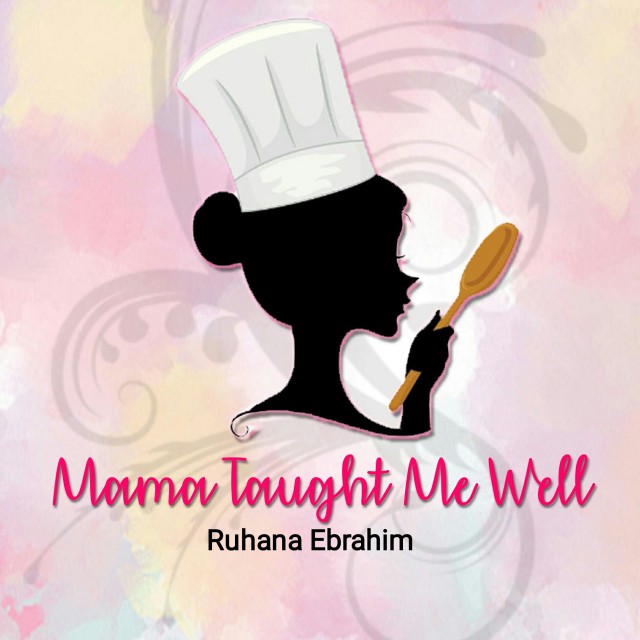 Ruhana Ebrahim
Grand Master
Interior Decorator.
Foodie!
Food styling.
Fusion Cooking.
Recreational baker.
Food Author of "Oh My Cupcakes!"
Mum and wife.
(Another 2 books on the way Insha Allah!)
---

South Africa
Joined 6 years ago
---
@mama_taught_me_well
CREDITS
Pic credit: Ruhana Ebrahim
Rec cred: @mama_taught_me_well


INGREDIENTS
4 t-bone steak2 tablespoon butter1 tablespoon Spur's basting sauce1 teaspoon chilli powder½ teaspoon dhana Jeeru (Cumin) powder½ teaspoon salt1 teaspoon green chillies garlic paste2 tablespoon brown vinegar1 teaspoon mustard powder
Also needed-Sliced cheeseSpur Basting SauceSpur Cheddamelt Sauce
METHOD
Soak steak, drain.Make a paste with above ingredients.Heat butter in grill frying pan.Place down and sear steak on both sides.Cook until done, baste with basting sauce.Place sliced cheese over steak.Heat cheddamelt sauce in microwave as instructed on packet. Pour over cheese.Serve with onion rings and fries/baked potato.
INFO & TIPS
Note: if Spur Basting sauce is not available, use a good Bbq sauce or Steer's monkeygland sauce.

If you do not like the packaged Cheddamelt sauce, make your own cheese or mushroom sauce and pour over steak and cheese slice.

Cheese Sauce
Pic cred: Ruhana Ebrahim
Rec cred: @mama_taught_me_well

Ingredients:
30g butter
2 tablespoon cake flour
3 cups milk
1 cup water
Salt and pepper
1 cup Grated cheddar cheese

METHOD
Melt butter, add milk and water and allow to heat through. Add in flour and whisk, bring to boil and allow to thicken into a smooth sauce. Add cheese to sauce, and season after adding cheese to avoid it becoming too salty. (May add sliced sauted mushrooms to sauce to make like packaged sauce).

Creamy Mushroom Sauce
Pic cred: Ruhana Ebrahim
Rec cred: @mama_taught_me_well

Ingredients:
1 punnet button mushrooms 
1 teaspoon crushed garlic
1 tablespoon butter
1 tablespoon lemon juice
1⁄4 teaspoon lemon pepper
1⁄4 teaspoon white pepper
1⁄4 teaspoon salt
1⁄2 teaspoon dried mixed herbs
1⁄4 teaspoon dhana jeeru powder
125 - 250ml long life fresh cream

METHOD
Slice mushrooms. Do not slice thin. Heat butter in pan. Add mushrooms and lemon and toss so mushrooms do not brown. Add spices and garlic. Cook until liquid released, gently pour liquid out. Add cream and cook till thickened and mushrooms tender.
POSTED ON
03 Dec 2017
WOULD YOU LIKE TO ?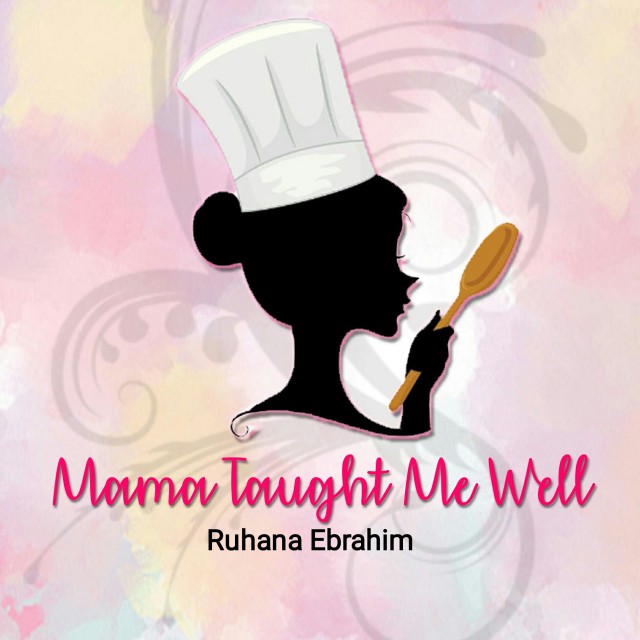 Ruhana Ebrahim
Grand Master
Interior Decorator.
Foodie!
Food styling.
Fusion Cooking.
Recreational baker.
Food Author of "Oh My Cupcakes!"
Mum and wife.
(Another 2 books on the way Insha Allah!)
---

South Africa
Joined 6 years ago
---
@mama_taught_me_well
COMMENTS
You May Also Like
Suggest Recipes