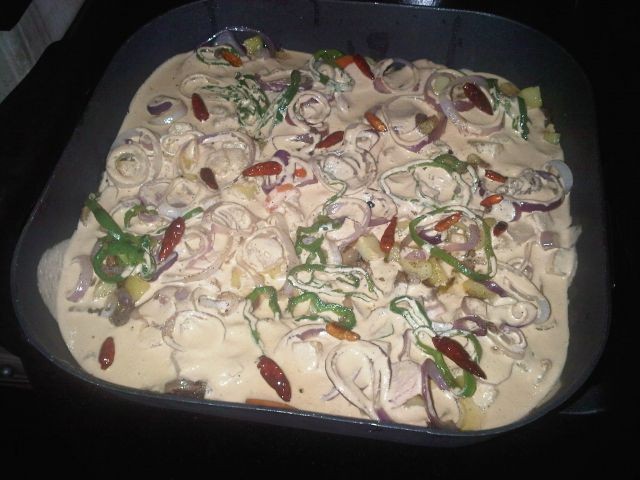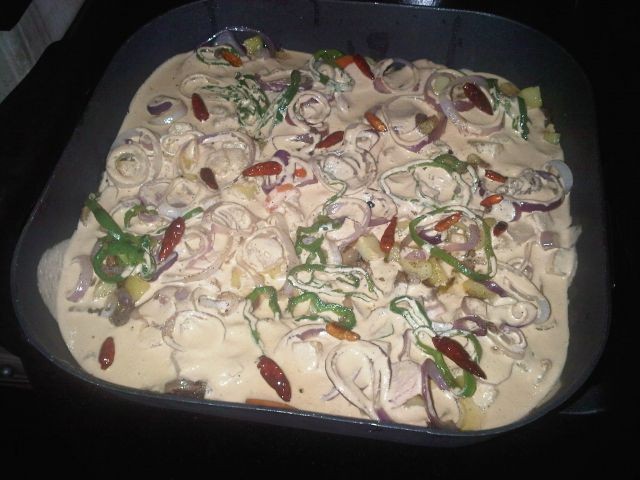 INGREDIENTS
1 kg fillet steak washed and drained
2 tablespoon vinegar
1 teaspoon salt
1 teaspoon pepper
2 teaspoon garlic paste
½ teaspoon ginger paste
hammer the steak and marinate in the above ingredients.

onion rings
red,green.yellow pepper rings
butter
12-15 small red peri peri chillies
a tin of sliced mushrooms
1 lg potato cubed into ½ inch cubes and boiled

1 litre fresh cream boiled only once with 2 tablespoon
vinegar,
1 teaspoon soya sauce
½ teaspoon black pepper


METHOD
in a pan add about a tablespoon of butter and add
the onion and pepper rings . as it starts to
sizzle add the mushrooms and cook till the onions
soften slightly.leave aside in a plate.
in the same pan add another tablespoon of butter and
then the potatoes and cook till slightly
brown.leave aside in a seperate plate.
in the same pan add again a tablespoon of butter and
add about 2 to 3 pieces of steak and cook on both
sides till done.continue doing so till all the
steak pieces are cooked. set the steak in an
electric wok.
now scatter the potatos over the steak.
then scatter the onion rings,pepper rings and
mushrooms over the potatoes.
now pour the fresh cream mixture all over
covering well.
in the buttery pan saute the peri peri chillies
and garnish them over the cream.
heat it in the electric wok/frying pan and serve
with potato wedges or fried rice.
Comments ordered by Newest
---