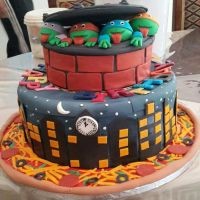 Sheda
Student Chef
I am a housewife and running a small business of catering and baking from home.. Cooking has been my passion since I was a teenager..
---

South Africa
Joined 8 years ago
INGREDIENTS
For the Flatbread4 cups unbleached all purpose flour 1 ½ teaspoon salt 1 tablespoon active dry yeast 1 ½ tablespoon olive oil 1- 1 ¼ cup water, warmed to 90FFor the Topping 1 green pepper 1 red pepper 1 onion 1 tomato2 garlic cloves¼ cup parsley½ lb ground beef (85% lean) or ground lamb1 tablespoon olive oil 1 ½ teaspoon tomato paste 1 teaspoon red chilli powder½ - 1 teaspoon red chilli flakes1 ¼ teaspoon salt ¼ teaspoon ground black pepper
For Serving (as desired) Fresh parsley 1 lemon, cut into wedges 2 tomatoes, sliced Lettuce 1 sweet onion, sliced
METHOD
For the Flatbread Mix the flour and yeast in a medium bowl. Add the salt and mix well. Add the oil and mix until well distributed. Add ¾ c of water and mix well. Continue adding a little water at a time until the dough starts to come together. Turn the dough out onto your counter and knead until a soft and supple dough forms, 3-5 minutes. Cover the dough with a damp tea towel or plastic wrap and let it rest for 30 minutes-1 hour.
For the ToppingProcess the peppers, onion, tomato, garlic, and parsley in your food processor in batches according to its size. Once the veggies are finely pureed, transfer them to a fine mesh sieve placed over a bowl. Lightly strain the veggie mixture of excess juices. (Reserve the juices for later.) Place the vegetable puree in a large bowl along with the raw ground meat, olive oil, tomato paste, paprika, red pepper flakes (according to your heat preference), salt, and pepper. Mix well until a soft paste forms. (If the mixture looks dry, add a splash of the reserved vegetable juices to the meat mixture.) Cover the meat mixture and let the flavors develop for 30 minutes. Putting It All Together Near the end of your resting/rising time, preheat your oven to 230°C/ 450 F. Knock back the dough and divide it into 12, roughly even pieces. Roll each piece into a ball. Once your oven is preheated, place a baking sheet into the oven to preheat. On a lightly floured surface, work with two balls of dough at a time. Roll each ball out thinly. Spread a scant ¼ cup of filling over top of each piece of dough, spreading the filling with your hands or a rubber spatula to cover the entire piece of dough and pressing the filling into the dough. (The topping shouldn't fall off when you go to move the dough.) Remove the preheating baking sheet from the oven and transfer the topped pieces of dough onto the hot baking sheet. Stretching the dough to a very thin sheet of roughly 7x10 inches as you transfer it. Return the baking sheet to the oven and bake the pizzas for 9-11 minutes, until the edges are starting to turn golden brown. While the first two are baking, make two more pizzas. When the first two pizzas are done, transfer them onto a wire cooling rack, and place the next two pizzas onto the hot baking sheet. Continue rolling, topping, and baking, until all your pizzas have been made. For Servings Top the warm lahmacun with parsley, tomatoes, lettuce, or onion and a squeeze of lemon juice, as desired. Roll the pizza up and enjoy!
POSTED ON
03 Jul 2018
WOULD YOU LIKE TO ?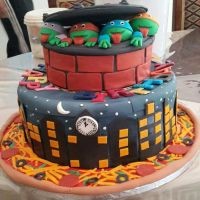 Sheda
Student Chef
I am a housewife and running a small business of catering and baking from home.. Cooking has been my passion since I was a teenager..
---

South Africa
Joined 8 years ago
COMMENTS
You May Also Like
Suggest Recipes