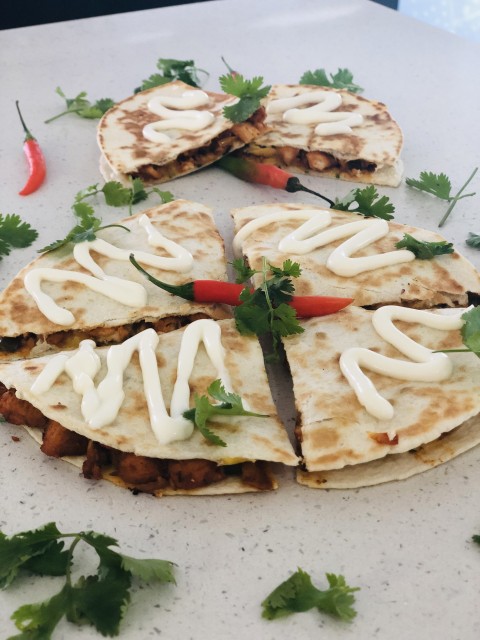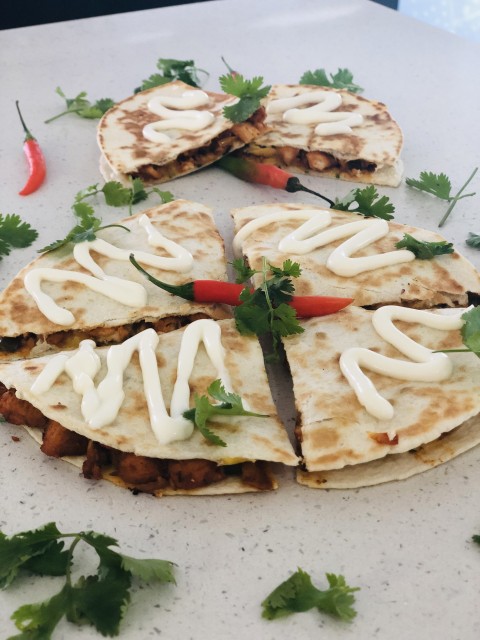 19
favs
0
coms
1.8K
views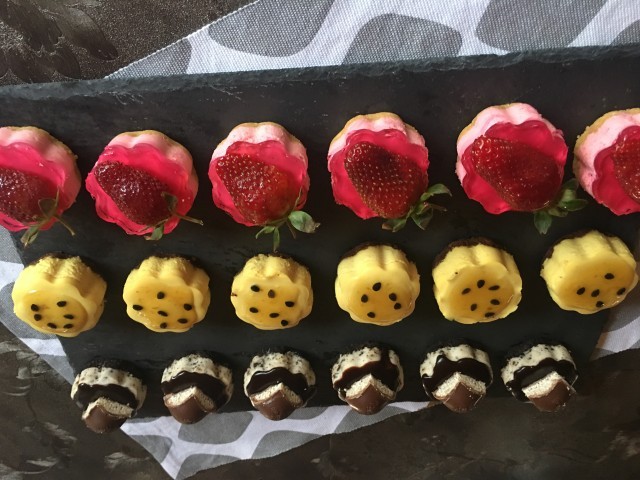 Mubina
MASTER CHEF
316
1.1M
273
Three lovely kids 👶🏻👲🏻👩🏻wonderful husband 💑 foodie n kitchen obsessed 🌺Instagram- @mubina_18 ...
Chicken Peri Peri Quesadilla
By Mubina
- MASTER CHEF
CREDITS
@mubina_18
RECIPE
 for the filling:2-3 Chicken breast boneless(cubes)½ red Onions chopped 1 tablespoon Garlic finely chopped¼ cup Yellow bell pepper chopped ¼ Red bell pepper chopped ¼ cup Green bell pepper chopped Lemon juice 1 teaspoon – Red chili flakesSalt and pepper to tasteCoriander chopped Heat 1 tablespoon oil in a pan add the marinated chicken and sauté the chicken on high heat, cook the chicken till the chicken is fully cooked and tender.Now add all veggies,lemon juice and other spices lastly add some chopped coriander. Filling is ready.
6 Tortilla wraps from Woolworths Grated Cheddar cheese
for marinating the chicken:- 1 teaspoon Ginger& garlic paste1 teaspoon Nando's peri peri spices 1 teaspoon Nando's peri peri garlic sauce 1 teaspoon Oil1 teaspoon vinegar1 teaspoon Red chili sauce ¼ tspsalt 1 teaspoon Onion powder½ teaspoon Jeera seeds ½ teaspoon Kashmiri chili powder½ teaspoon Sugar 1 teaspoon Paprika powder2 teaspoon Chilly powder1 teaspoon Cornflour Mix all the ingredients for marination with the chicken and keep aside for ½ hour.

For Sour cream sauce:-2 tablespoon Mayonnaise 4 tablespoon fresh cream4 tablespoon yogurtPinch of salt 1 teaspoon lemon juice Mix the mayonnaise, fresh cream, yogurt,salt and lemon juice whisk lightly to mix well.
Take a tortilla wrap spread little bit sour cream sauce. Then add the chicken filling on tortilla wrap. Top it with some grated Cheddar cheese or any cheese you like it. also add a combination of different cheese. Then cover it with other wrap and grill it on a medium hot grill pan with a little bit of oil. cook till both the sides of the quesadillas are golden and crisp and the cheese has melted inside.Serve immediately with sour cream. Enjoy 😊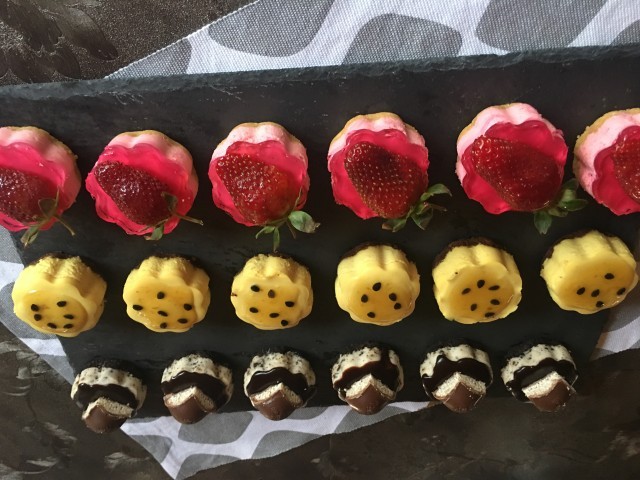 Mubina
MASTER CHEF
316
1.1M
273
Three lovely kids 👶🏻👲🏻👩🏻wonderful husband 💑 foodie n kitchen obsessed 🌺Instagram- @mubina_18 ...
Comments
Ordered By Newest
---
---
Suggest Recipes
You May Like
Chicken Peri Peri Quesadilla is part of the
Breakfast, Brunch
recipes category
TAGS
chicken
halaal
mubina
peri
quesadilla
recipe