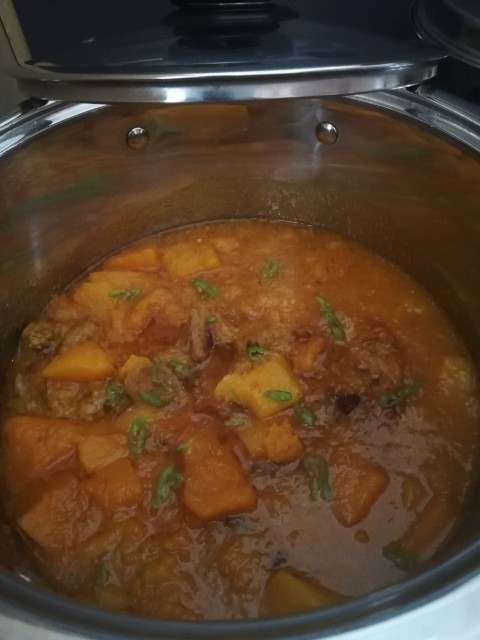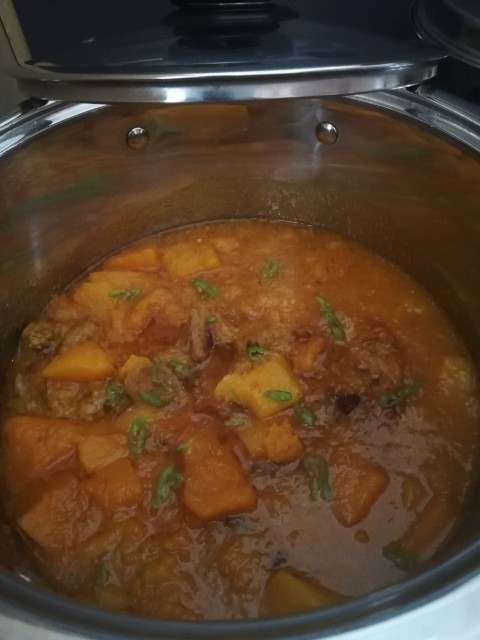 6
favs
0
coms
1.3K
views
INGREDIENTS
400g Pumpkin, cubed4 Green Chillies½ teaspoon Crushed Red ChilliesOilQuarter cup water4-5 teaspoon SugarSalt to taste4 Stick Cinnamon ½ teaspoon Garlic200g Mutton/Beef½ teaspoon Garlic & Lemon Spice½ teaspoon TumericQuarter Tomato
METHOD
Oil in the pot, add the onion cook until golden, add the meat & tomato. Cook until tender. Add the spices, garlic, pumpkin, tumeric, salt, sugar. Lastly add the water if necessary,not all at once. Cook for 15-20 minutes. Garnish with fresh Chillies(optional). enjoy with Rice & Bulgarian yogurt.
INFO & TIPS
Add Green chillies for hotter taste☺️
Squash is also tasty
Advertise Here
Want to see your advert here ? find out how to advertise with us.
Learn more.
Comments
Ordered By Newest
---
---
Suggest Recipes
You May Like
Sweet Chillie Pumpkin is part of the
Beef, Mutton, Steak
recipes category
TAGS
chillie
halaal
khan
pumpkin
recipe
shaheema
sweet