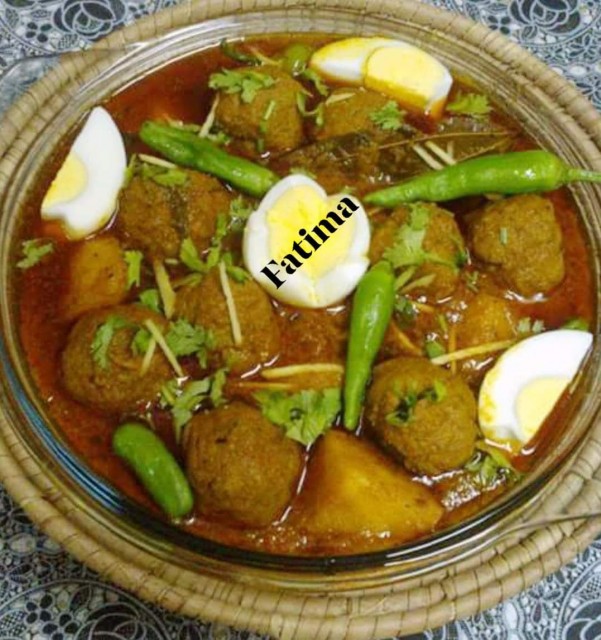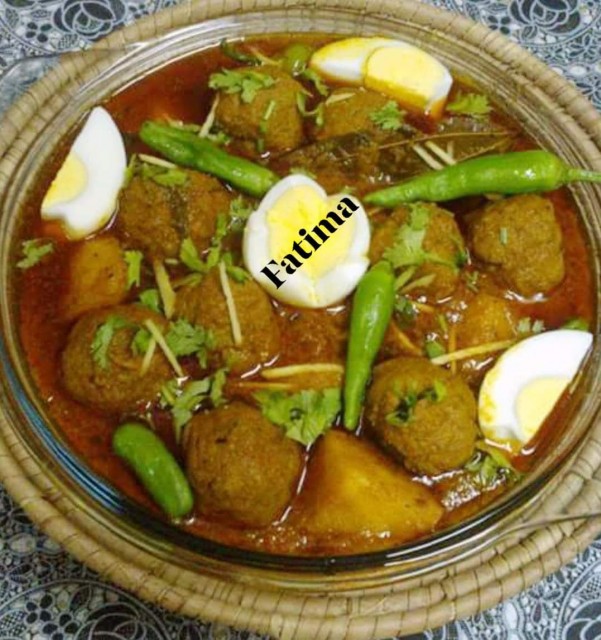 8
favs
0
coms
1.5K
views
CREDITS
Rec and pic cred: Fatima Shakir Bobat
INGREDIENTS
Beef mince ½ kg1 med onion roughly chopped1 fistful of fried onion crushed3-4 green chillies¼ bunch Corriander leavesfew mint leavesPut all the ingredients in a food processorProcess until well combined.Once done transfer the mixture in a large mixing bowl and add2 teaspoon ginger garlic paste1-2 teaspoon red chilli powder ( or as per taste )1 teaspoon Kashmiri chilli powder1 teaspoon roasted and crushed cumin seeds½ teaspoon salt or to taste1/ 2 teaspoon garam masala powder1 tablespoon roasted gram flour (besan)3 - 4 tablespoon curd2 -3 tablespoon clarified butter (semi solid)Mix everything very properly with hands for about 4-5 minutes.cover and keep in fridge for 2-3 hours.Then make compressed balls.
Ingredients for making gravy:½ -¾ cup oil3 med onions grinded3 med tomatoes blanched , blended and sieved4 teaspoon ginger garlic paste3-4 bay leaves2-3 black cardamoms1 teaspoon turmeric2-3 teaspoon red chilli powder2 teaspoon corriander powder2 teaspoon roasted cumin powderSalt to taste4-5 tablespoon whisked curd1 large potato cubed (fried) and keep aside1 tablespoon heaped kasoori Methi (Fenugreek).
METHOD
Heat oil in a wok.Add grinded onion and saute till light golden, add ginger garlic paste ...fry little and add bay leaves and black cardamoms , give a good stir lower d flame and add all d spices mix well and fry for few secs.Add blended tomatoes , cook a little...add curd, stir well, add fried potatoes and cook till oil separates.Now add 1 ½ - 2 cups of boiling water & place meat balls in d gravy, cover and let cook on medium heat, please don't use spoon to stir d koftas....just move your wok to & fro for koftas to b cooked properly.At last add kasoori Methi (Fenugreek) (dried fenugreek leaves) & few whole green chillies , cover and keep on dum for few minutes.Garnish with finely chopped Corriander leaves , ginger jullien and hard boil egg wedges.Sprinkle garam masala powder on it while serving.....it will give a good aroma.Serve piping hot with tandoori roti / chappati.
INFO & TIPS
Recipe is too lenghty but still very easy
A great tip is to have good amount of moisture in your kofta mix. Dry mixture will result in hard meatballs.
Advertise Here
Want to see your advert here ? find out how to advertise with us.
Learn more.
Comments
Ordered By Newest
---
---
Suggest Recipes
You May Like
Kofta Korma Aka Frikkadel is part of the
Beef, Mutton, Steak
recipes category
TAGS
aka
fatima
frikkadel
halaal
kofta
korma
recipe
shakir