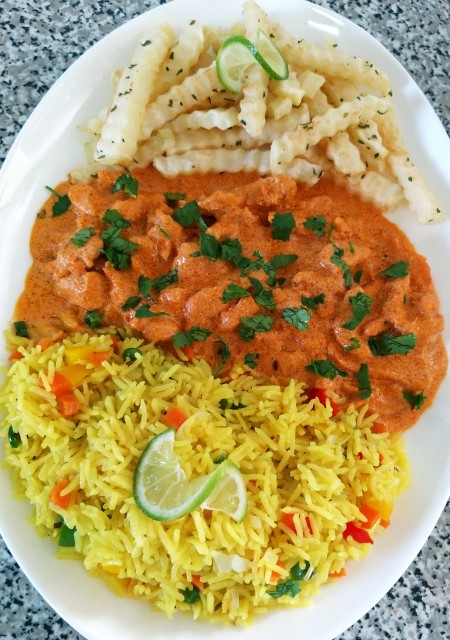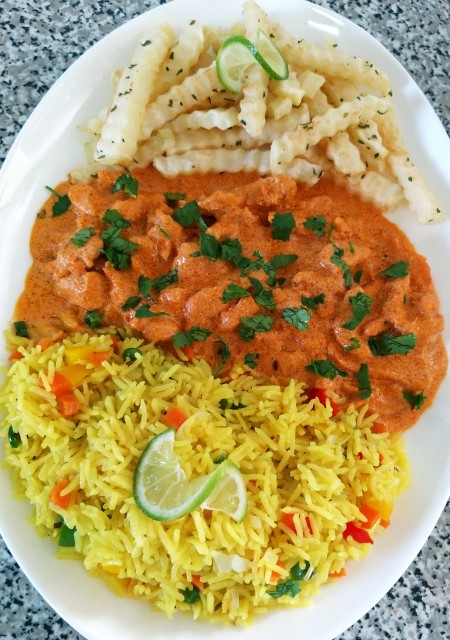 54
favs
0
coms
3.6K
views Fahimah Amin
SOUS CHEF
32
123.4K
112

Still learning,Begginner Chef👩‍🍳...
CREDITS
Made by Fahimah Amin
Rcp credit:Sumaiyah


INGREDIENTS
1 chicken - disjointed1 teaspoon red chilli powder1 teaspoon dhana Jeeru (Cumin) (Cumin)2 teaspoon crushed garlic6 tablespoon mayonaiseSalt to tasteSauce :1 cup fresh cream3-4 tablespoon tomato paste3-4 tablespoon nandos garlic peri peri1 tablespoon garlic butter½ teaspoon garlic flakesMETHODMarinate chicken in spices and cook inbutter.Boil sauce ingredients.Place chicken in casserole, throw sauce over.Place under grill for 10-15 minutesRICE1 ½ cup rice2 medium onions sliced½ punnet mushrooms¼ green pepper cubed¼ red pepper cubed1 tomato diced1 cup mixed vegetables
METHOD
Boil rice with ½ teaspoon haldi,and salt..leave aside.Stir fry all vegetables with whole Jeeru (Cumin) (Cumin),2 whole slit green chillies and ghee (Clarified butter) (Clarified butter) till soft...when tender add to rice and season with Aromat (a South African Spice) (a South African Spice),parsley and a blob of butter..steam..Fry 6 medium potatoes (cut in chips)Season chips and arrange at the end edging of a platter,,then follow with rice and place chicken in the middle,garnish with parlsey and dhania (coriander) (coriander) sprigs
Advertise Here
Want to see your advert here ? find out how to advertise with us.
Learn more. Fahimah Amin
SOUS CHEF
32
123.4K
112

Still learning,Begginner Chef👩‍🍳...
Comments
Ordered By Newest
---
---
Suggest Recipes
You May Like
Portuguese Platter is part of the
Rice Dishes
recipes category