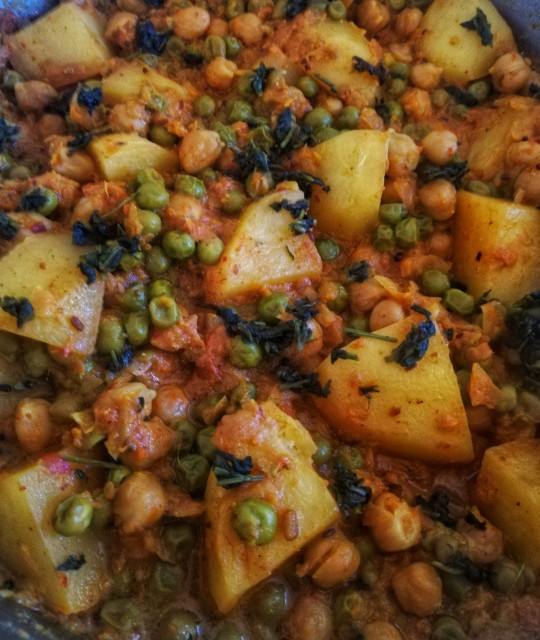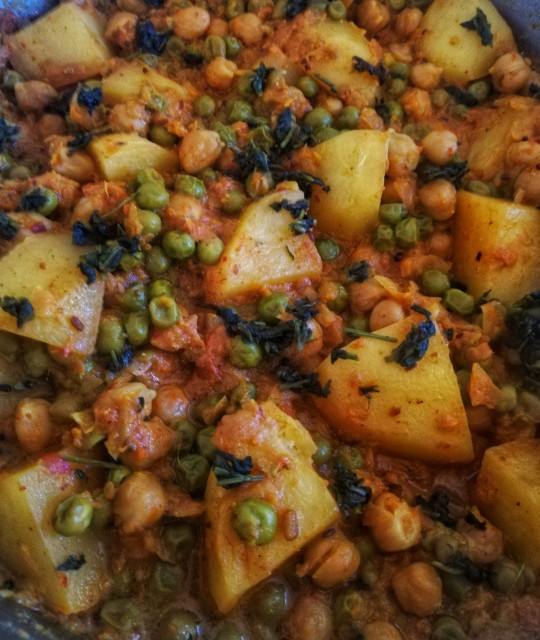 28
favs
2
coms
1.8K
views @saadia_b_
SOUS CHEF
40
76.8K
69

Creative expression, real, soul-full content...
CREDITS
INGREDIENTS
Peas, potato and chickpea curry :(aloo mattar (green peas) with a twist)
1.5 cups Packet frozen peas2 PotatoesA tin of chickpeas 1 onion3 tomatoes 1.5 tablespoon sp thick yoghurt 2 cups of water A few saffron threadsSalt to taste (about a teaspoon)
2 cloves4 whole pepper cornsHalf a teaspoon cumin seeds (Jeeru (Cumin))¼ teaspoon mustard seeds1 small cinnamon stick 4 fenugreek seeds (Methi (Fenugreek) seed)
½ tablespoon red ginger garlic paste 1.5 teaspoon coriander powder (dhania (coriander) powder) ½ teaspoon arad (Turmeric)/tumeric/haldi
METHOD
Boil frozen peas for a few minutes and drain in a colander. Braise 1 onion sliced in a little oil with whole spices, until light brown. Add the powder spices and the ginger garlic paste. Roast together lightly for a minute or until the mixture is a reddish brown. Add yoghurt and tomatoes (grated/Liquidised Raw/boiled and liquidised) and cook until all the tomato water has burnt out. Then add the veggies. 2 potatoes, (up to) a tin of chickpeas (I used half) 1.5 cups of peas (preboiled)
Add 2 cups of water with crushed saffron threads. Cook on medium until done.The curry should not have a lot of gravy. It is a dryish curry. Add some dhania (coriander)(coriander/cilantro leaves) before serving. . P. S serves about 2 adults and 2 small kids, or 3 adults. You may double the recipe to your family size. You may substitute for the veggies of your preference, even remove the chickpeas and adjust to make a traditional aloo mattar (green peas) (a famous potato and pea curry) @saadia_b_
SOUS CHEF
40
76.8K
69

Creative expression, real, soul-full content...
Comments
Ordered By Newest
---
---
Suggest Recipes
You May Like
Aloo Mattar With A Twist is part of the
Vegetarian
recipes category