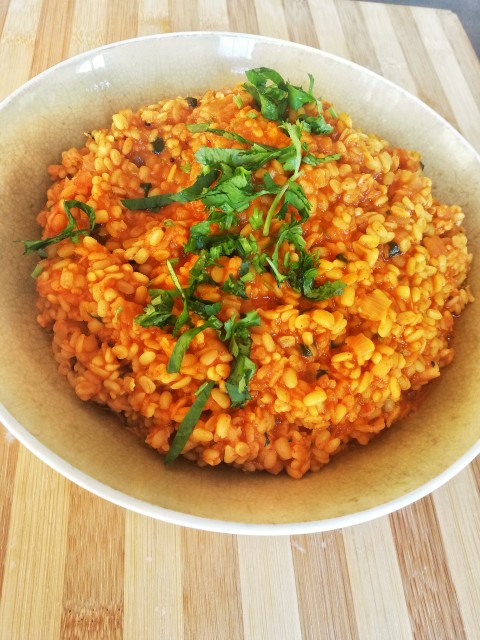 @saadia_b_
Sous Chef
Creative expression, real, soul-full content
---

South Africa
Joined 2 years ago
---
@saadia_b_
CREDITS
INGREDIENTS
1 cup of magnidaar 1 large onion2 tomatoes Half a teaspoon of cumin seeds (Jeeru (Cumin)) Less than ¼ teaspoon of mustard seeds5 fenugreek seeds (Methi (Fenugreek) seeds) 1 or 2 whole green chilli (optional) Half a teaspoon of red ginger garlic paste (up to 1 teaspoon, depending on how spicy your paste is) 1 teaspoon coriander powder (dhana) ¼ teaspoon tumeric /arad (Turmeric) /haldi Less than 1 teaspoon of rough salt. (¾ level)(adjust for taste) 1.5 teaspoon course chilli flakes (or as you prefer) dhall (lentils) should be spicy.
METHOD
Filter through the dhall (lentils) for any odd bits. Soak in water for a minimum of one hour. Rinse well and drain. Reserve a quarter of an onion and tomato. Chop these quarters into cubes and add to the drained moong dhall (lentils). Slice the remaining onion finely. Grate the remaining one and ¾ tomatoes. Braise the onion with a little oil and whole spices until brown. Add in the wet and dry powder spices. Toss for a minute until the spices aroma emits.Add in your tomatoes and cook up until all the water has evaporated. Add in your moong dhall (lentils) mix with about half a cup of water and ¾ teaspoon salt rough salt (level) . Steam on medium low for about 20min or until soft but firm. You may add extra water a little at a time, as your require. In the final steam, add in a generous handful of finely chopped coriander /dhania (coriander) / cilantro leaves. Garnish with coriander. . Serve with kachoomber (onion and tomato in vinegar, salt, pepper, green chilli), or Tamarind infused onions (onions in amli (tamerine) juice), roti, paapadoms (Paapar), roti. . Serve topped with Patta (Yam leaves (Madumbi Plant))
or alongside masala fish 🐠.
INFO & TIPS
This recipe yields a slightly gravier recipe even though it isn't very apparent in the pic.
POSTED ON
12 Jun 2020
WOULD YOU LIKE TO ?

@saadia_b_
Sous Chef
Creative expression, real, soul-full content
---

South Africa
Joined 2 years ago
---
@saadia_b_
COMMENTS
You May Also Like
Suggest Recipes