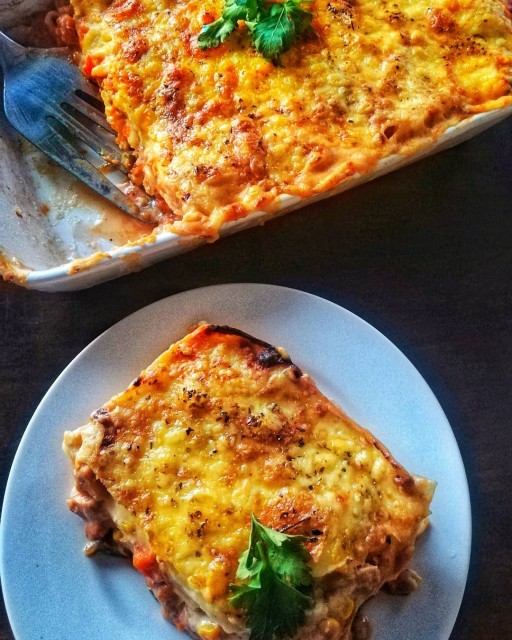 @saadia_b_
SOUS CHEF
Creative expression, real, soul-full content
---

South Africa
Joined 1 year ago
---
@saadia_b_
CREDITS
Adapted from a recipe by Zeenat saloojee
@saadia_b_


INGREDIENTS
Ragu (meat based marinara sauce) 750g chicken fillets cut into itsy bitsy cubes
750g lean beef mince. 1 onion (preferably red onion). 2 teaspoon minced garlic. 2 teaspoon chilli flakes
Ground green chilli to taste. 1 teaspoon white pepper. 1.5 teaspoon rough salt. 4 whole tomatoes (boiled and liquidised) ½ tin tomato puree2.5 or 3 cups of mixed veggies (boiled for a few minutes). 1 green pepper diced.
Bechamel sauce :3 or 4 cups. (depends on how saucy you prefer) (I prepare 4 cups) 4 heaped tablespoon all purpose flour. 4 tablespoon butter. 4 cups of milk. 2 teaspoon fine salt. 1 teaspoon white pepper powder.
METHOD
Ragu :Saute sliced/diced/processed onions until translucent. Add garlic. Add meat. Add chilli chilli and 1 teaspoon salt rough salt. Toss. Cook until meat is done. Add veggies. Cook until the water has dried. Add tomatoes and puree. Add ½ teaspoon rough salt. Simmer until some of the water has evaporated and the tomatoes have cooked. (sauce should still be quite moist, although not runny). Adjust for salt. . Bechamel :Braise flour and butter for a bit. Add milk a little at a time, whisking all along. As the sauce thicken, continue to process of adding milk in small quantities, whisking all along. Grown so accustomed to this process. It prevents scorching and it's gets done so much quicker. Season with salt and pepper. (green chilli is optional) . Layer process :First rule of the layering :Don't allow the lasagne sheets to touch. Keep a small spacing between the lasagna sheets. . Layer process :Bechamel /Lasagne (uncooked) /Ragu / (parmesan or cheese of choice - optional) /Bechamel /lasagne.... Etc. I manage 4 layers.Always end with Bechamel, ensure that your last layer of pasta sheet is well covered. (it may now be frozen for later use in a freezer suitable Pyrex /Container) . Cover with a foil. Bake in a preheated oven at 170C for 40 minutes. (follow your lasagne package instruction) Remove foil. If your sauce is a little runny, place it back for another 10min.Remove. Scatter with cheese of choice and dried origanum. (preferably sharp cheddar, mozzarella) Place oven on grill and grill until cheese melts and slightly browns. . Allow to rest for 10 - 15min before serving. This allows the lasagne layers to bind together. Dust with parmesan before serving. (optional)
POSTED ON
18 Jun 2020
WOULD YOU LIKE TO

@saadia_b_
SOUS CHEF
Creative expression, real, soul-full content
---

South Africa
Joined 1 year ago
---
@saadia_b_
COMMENTS
You May Also Like
Suggest Recipes