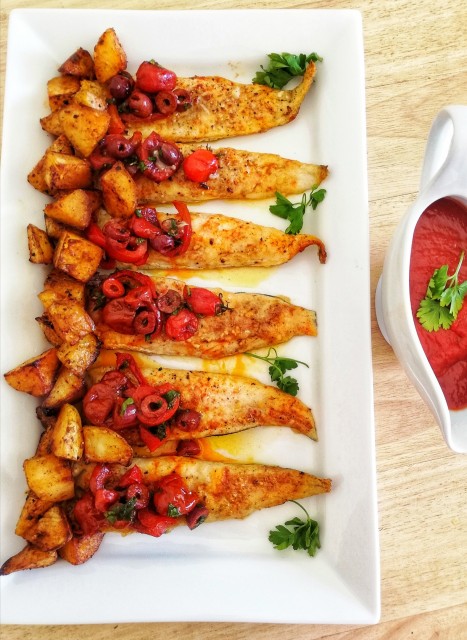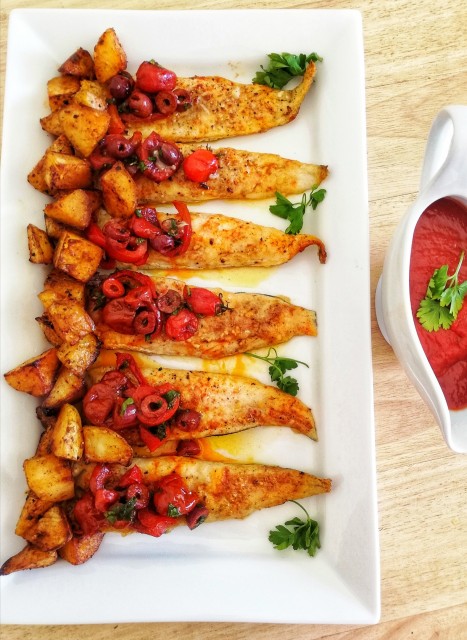 21
favs
0
coms
1.5K
views @saadia_b_
SOUS CHEF
40
76.8K
69

Creative expression, real, soul-full content...
CREDITS
Adapted from all-fish-seafood-recipes.com
@saadia_b_


INGREDIENTS
For the veg :Half a large red pepper (sliced) 6-8 peppadew (bottled one) 10 to 12 pitted kalamata olives (cut in half) 4 - 6 baby tomatoes (optional) 1.5 teaspoon paprika ½ teaspoon cayenne pepper (optional) Or black pepper groundedSalt to taste 2 teaspoon fresh flat leaf parsley or 1 teaspoon dried parsley.
For the hake:800g @ petite hake fillets (6pieces)Lemon juice Ground black pepper ¾ teaspoon garlic Paprika 2 tablespoon flour White pepper Salt 2 tablespoon flour to sprinkle over the fish
For the potatoes :A large handful of baby potatoes
2 large potatoes Salt 2 teaspoon of Cajun spice OR orange pepper spice Freshly ground black pepper Olive oil 1 teaspoon paprika 1 teaspoon of dried mixed herbs or parsley
METHOD
Veg : Prep your veg. Season with spices and Stir fry for a few minutes. Add veg according to how quickly each veg cooks. Red pepper, then tomatoes, peppadew and lastly olives. Veg should be cooked but crunchy. (P. S you may use aubergine/brinjal or baby marrow/croguettes as well. Adjust your veg quantity and spice quantities) . Potatoes: Boil potatoes whole in salt water until super soft. (a knife should glide effortlessly through) . Season your olive oil with the spices.If you're using baby potatoes drizzle the seasoned olive oil over, toss. If you're using large potatoes, cut then into wedges and further dice each one into blocks. Layer in Pyrex and brush olive over each one. . Grill on the top rack until browned and crisp. . Hake :Prepare your hake and pat dry. Sprinkle salt, white pepper, garlic, lemon juice, and paprika and massage into fish. Sprinkle flour onto the fish. If you're grilling only sprinkle flour to the top of the fish (the exposed, skinless side). Drizzle with olive oil and blob liberally with butter. Grill uncovered for 10 minutes or until done. You may fry the fish if you prefer this method. . Layer fish, top with potatoes and veg. Serve with a marinara sauce (really recommended, it ties it all together so perfectly) and drizzle all the leftover olive oil and butter (all that flavour 😍) . Lightly drizzle sauce over the fish and veg. . You may plate up, or serve seperately as a diy concept. . You may add chilli to your veg and fish for heat, but the sweet and subtle heat of the paprika work so perfectly with this. If you enjoy hot and spicy food, serve with sliced red chilli on the side instead 🌶️🔥🌹 @saadia_b_
SOUS CHEF
40
76.8K
69

Creative expression, real, soul-full content...
Comments
Ordered By Newest
---
---
Suggest Recipes
You May Like
Spanish Hake Fillets is part of the
Seafood
recipes category