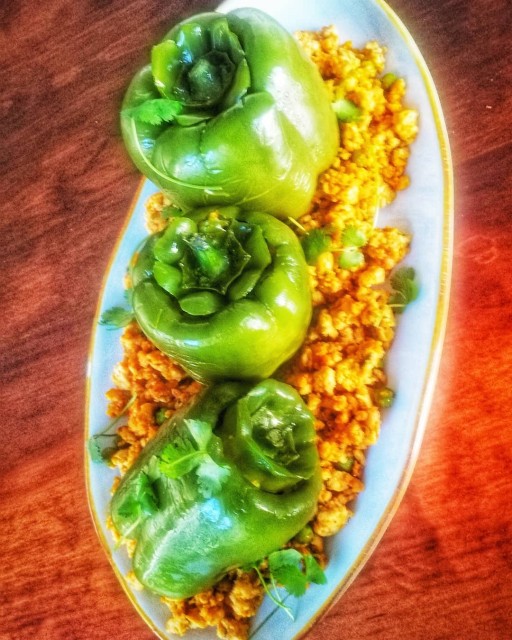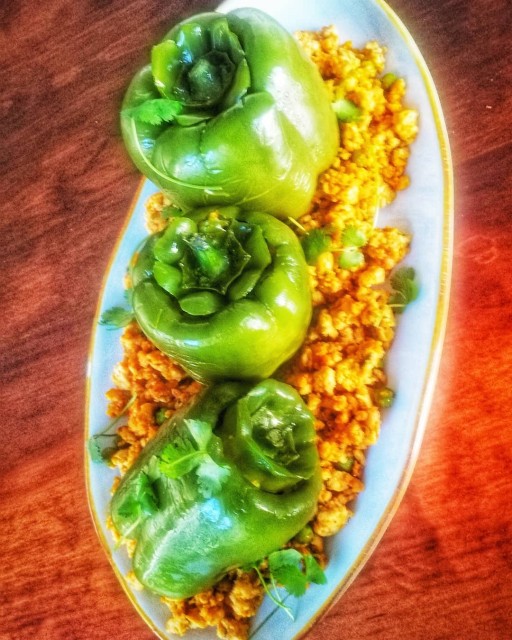 10
favs
0
coms
531
views @saadia_b_
SOUS CHEF
36
51.6K
57

Creative expression, real, soul-full content...
CREDITS
INGREDIENTS
5 chicken fillets minced (approx 600g)Or 600g beef/lamb mince. 1 onion (sliced fine) 2 pieces cinnamon sticks (Taj) 3 cloves (lavang) 3 cardamom pods (Elachi (cardomom)) 1 teaspoon cumin seeds (Jeeru (Cumin)) 1 or 2 teaspoon ginger garlic (adjust according to your preference) 2 teaspoon coriander (dhana) powder½ teaspoon cumin (Jeeru (Cumin)) powder ¼ teaspoon tumeric Salt to taste 1 teaspoon chilli powder (adjust to your preference) 2 to 3 tomatoes (according to the size of your tomatoes) 3 to 5 peppers (you may add different Colour peppers, or use aubergine/tomatoes instead to stuff) 2 potatoes (diced into 6 pieces each) (optional) ¼ teaspoon garam Masala (optional) ½ cup peas boiled (optional)
METHOD
Slice onion and braise in a little oil with whole spices. Once light brown, add your wet and dry powder spices (including salt) . Toss for a few seconds. Add mince and braise well, tossing regularly to avoid clumping, until the water has released and evaporated. Add your tomatoes(grated or liquidised), peas, potatoesAllow to simmer until the tomatoes (and potatoes) are cooked and the liquid has dried out. Add garam Masala (optional) Chop coriander greens (dhania (coriander))
Prepare your peppers :Wash thoroughly. Carefully carve out the top stem area of the peppers (in a circle). Wash the inside of the pepper and remove any seeds from the lid. (top of pepper). Remove whole spices from mince. Stuff your mince. Replace lid. You may steam in a pot or in the oven. To steam in a pot :Add a little water to a pot to steam the pepper. (water should not be too high to enter into the pepper when the pepper is turned to its side) Add your pepper and steam on low turning regularly to cook thoroughly on all sides. Peppers will have changed from bright green and firm, to a duller green, softer, with a wrinkly appearance when cooked. To steam in the oven :Place peppers upright in an oven-proof pot, add a little water to steam. You may use a tray and seal with foil instead. Place in a preheated oven at 160C for approx ½ hour or until peppers are cooked. Discard any remaining water. Bake uncovered until all water has dried and the peppers are slightly charred. 😍P. S I use slightly less peppers (3 peppers) , and serve the remaining mince at the bottom, as pictured above. Garnish liberally with chopped coriander.Enjoy 🌸 @saadia_b_
SOUS CHEF
36
51.6K
57

Creative expression, real, soul-full content...
Comments
Ordered By Newest
---
---
Suggest Recipes
You May Like
Mince Stuffed Peppers is part of the
Chicken
recipes category