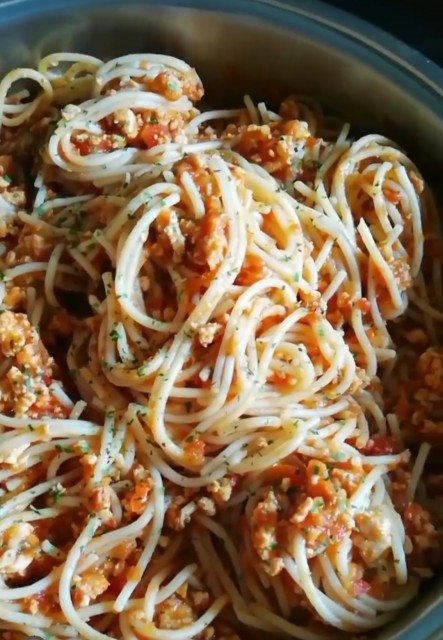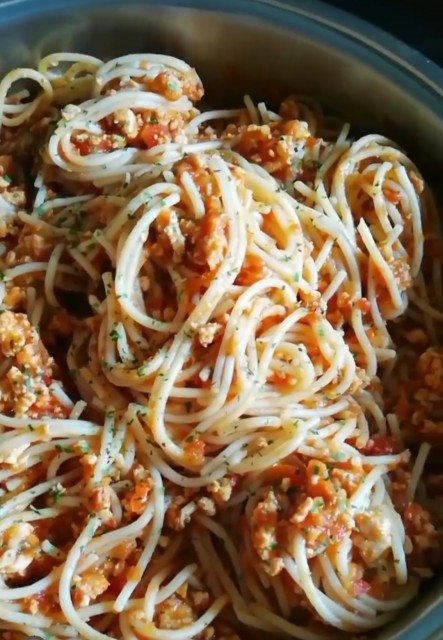 14
favs
0
coms
1.1K
views @saadia_b_
SOUS CHEF
40
76.7K
69

Creative expression, real, soul-full content...
CREDITS
INGREDIENTS
3 chicken fillets minced (approx 400g) (or mince of Choice) 1 tin tomato and onion mix1. 5 teaspoon garlic mincedRed chilli flakes to taste½ teaspoon white pepper1 tablespoon red wine vinegar (optional) 1 carrot grated (optional) ½ teaspoon sugar3 large tomatoes liquidisedSalt to taste1 teaspoon dried herbs or 1 tablespoon of fresh herbs of choice (rosemary, parsley, oregano) Approx 400g spaghetti
METHOD
Boil spaghetti in salted water with a splash of oil until done. Process 3 large tomatoes and a tin of tomato and onion mix. In a flat, broad-based pot add a splash oil. Heat garlic, add carrots, mince and spices and stir until the mince no longer clumps together. Cook through. Add the processed tomatoes. Cook on low until all the water has reduced and the ragu is thick and cooked well. Add cooked spaghetti a little at a time until well combined. @saadia_b_
SOUS CHEF
40
76.7K
69

Creative expression, real, soul-full content...
Comments
Ordered By Newest
---
---
Suggest Recipes
You May Like