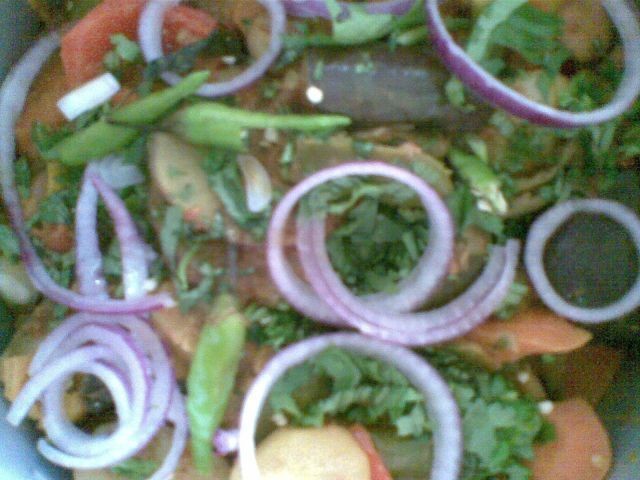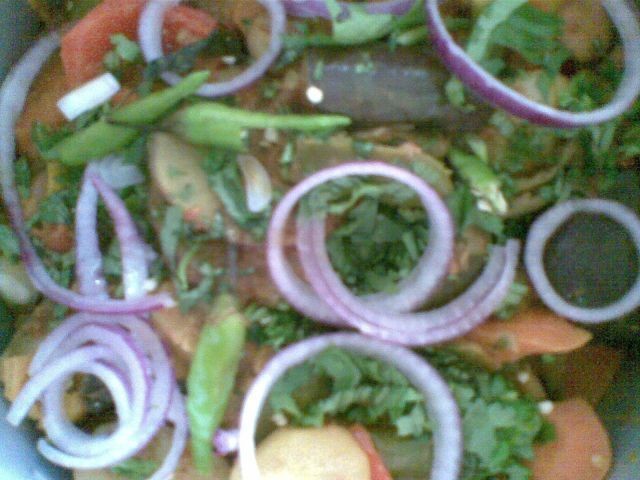 29
favs
3
coms
8.9K
views
INGREDIENTS
3 med onions (processed) 2 med
bringals,2 med
sqush,1 red,1 green,1 yellow
peppers,300g cleaned
double beans(dhabla) 2 punnets corn
spears,8 baby
potatoes cut in half,3 med carrots
about 150g green
beans cut in half,3 small to med sweet
potatoes 4-5
jam tomatoes chopped, 4 sticks curry
leaves. Masalas
and spices will follow in method. The
double beans
must be parboiled.
METHOD
Take 3 tablespoon ghee (Clarified butter) saute the onions and
the curry leaves,
2 teaspoon jeeru (cumin),till soft but not brown,add
2 teaspoon green
masala.1 teaspoon red ginger garlic
masala,3/4 teaspoon arad (Turmeric),3 teaspoon
dodhra dhania (coriander) salt to taste(about 3
teaspoon)saute for 1
minutes, add chopped tomatoes.and baby
potatoes,lower
heat cook till potaoes are half done
.While potatoes
are cooking chop veg in big chunks, add
vegetables
except corn spear and cook on low heat
. Do not add
any water the secret of a tasty veg
dish is to cook it in
its own liquid that draws as u cook the
veg must not
be miixed more than 4 times.add 2 level
tablespoon mayo
and corn spears just before it is
cooked.give it one last
mix. Garnish with fresh red and green
chillie, green
dhania (coriander) and red onion rings.Tip. The
garnish must be
done when its cold to retain all the
natural colours
INFO & TIPS
salt and masalas can be
adjusted,personally my
opinionis that veg curries are best
eaten mildly spiced
to enjoy the natural sweetness of the
veg
Comments
Ordered By Newest
---
---
Suggest Recipes
You May Like
Delicious Veg Curry is part of the
Vegetarian
recipes category