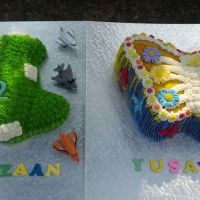 Naseerah Sayed
Kitchen Fundi
Working mom of two who loves to be creative and try new things.
---

South Africa
Joined 11 years ago
INGREDIENTS
-230g Cake Flour
-60ml Cocoa Powder
-15 ml Baking Powder
-2.5 ml Salt
-5 Jumbo Eggs, separated
-300g (375ml) white sugar
-5ml Vanilla essence
-200 ml lukewarm water
-2.5 ml Cream of tartar

Coffee syrup
-375 ml Water
-330g Golden brown sugar
-30 ml instant coffee granules
-5 ml vanilla essence

Condensed Milk Cream

-125 ml Fresh cream whipped
-1x185g Can Caramelised Condensed Milk
-1x32g Flaky Milk Chocolate

METHOD
Preheat the oven to 180C
Coat a 23cm round, ring shaped tin with
cooking spray and set aside .Sift the flour,
cocoa, baking powder and salt into a bowl
and set aside. Beat the egg yolk and sugar
in the bowl of food mixer until light and
creamy in colour. Add the vanilla essence,
oil and water and mix thoroughly. Spoon in
the dry ingredients and mix, Beat egg whites
and cream of tartar in a bowl until stiff
peaks begins to form. Fold the egg white
into the cake mixture using a mental spoon.
Pour into the prepared tin. Bake for 40
minutes depending with your oven but hesta
said for her oven it's quick so she bakes it
for 35 minutes or until the skewer inserted
into the centre comes clean. Remove from the
oven and leave to cool in the tin.

To make the coffee syrup: Combine all the
ingredients in medium- seized, heavy based
sauce pan and bring to the boil. Remove from
heat. Spoon the hot syrup over the cake in
the tin and set aside for 15 Minutes. Invert
onto a plate and coat with condensed milk
cream when cold.

To make the condensed milk: Combine the
cream and caramelised condensed milk in a
small bowl until mixed. Spread over the cake
and top with the flaky chocolate


WOULD YOU LIKE TO ?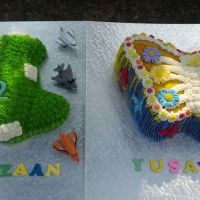 Naseerah Sayed
Kitchen Fundi
Working mom of two who loves to be creative and try new things.
---

South Africa
Joined 11 years ago
COMMENTS
You May Also Like
Suggest Recipes