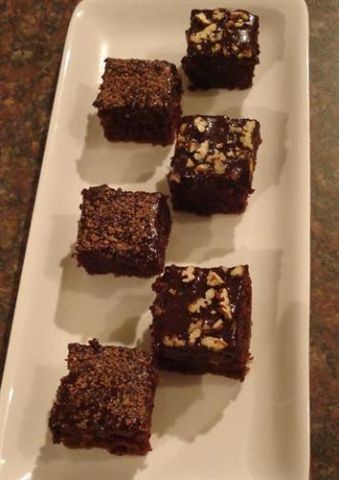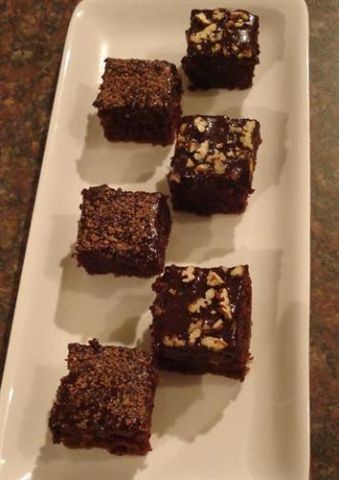 INGREDIENTS
Choclate Brownies

125 g butter
¼ cup cocoa
1 cup water
1 teaspoon vanilla essence
½ cup buttermilk
2 eggs
1 ¾ cups sugar
½ cup oil
2 cups sifted flour
1 teaspoon bicarb
½ cup chopped pecans (optional)


Brownie Sauce


80-100 g butter
1 cup icing sugar
¼ cup cocoa
1 teaspoon vanilla essence
½ - ¾ cup buttermilk


METHOD
Brownie Method:

Boil 1st 3 ingredients together. Remove from
heat and allow to cool.
Whisk eggs, oil, vanilla and buttermilk in a
separate container.
Sift dry ingredients in a large bowl. Add
whisked mixture and beat with electric
beater. Add cooled cocoa/butter mixture and
continue to beat until a smooth batter is
formed.
Pour into large greased pyrex dish and bake
in preheated oven (180 degrees) for 25-30
minutes.
Once done, remove from oven and prick all
over with a fork.


Sauce Method:

Add all ingredients in pot and bring to the
boil slowly, stirring often.
Pour on cake whilst both sauce and cake are
still warm.
Decorate with chopped pecans on top of sauce
and sprinkle some flake on half.

Comments ordered by Newest
---