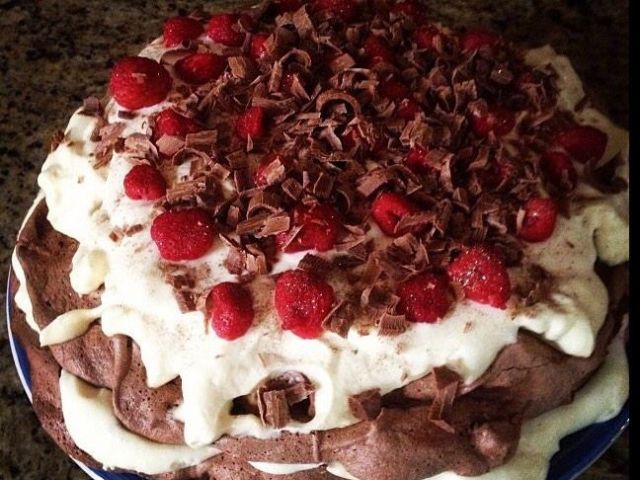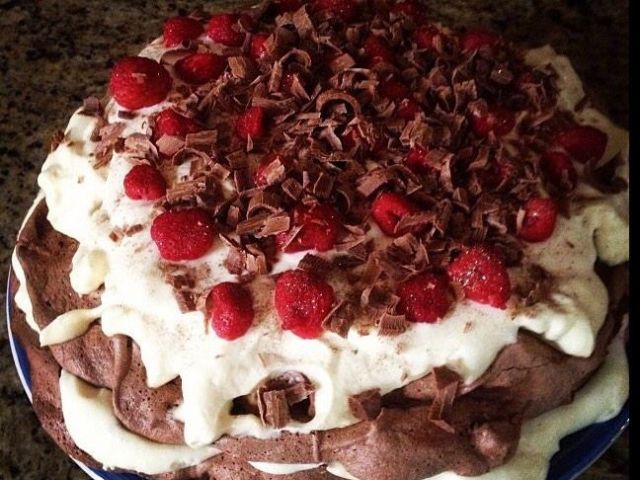 Chocolate & Raspberry Pavlova Cake
By Nabeela
- KITCHEN HAND
INGREDIENTS
6large egg whites,
300g castor sugar,
3tblsp cocoa powder sifted,
1 teaspoon balsamic vinegar,
50g dark chocolate finely chopped.
fresh cream, icing sugar, raspberries, grated chocolate for topping.
METHOD
for the meringue:preheat oven to 180 deg.
Line baking tray.
Beat egg whites until peaks form.
Then beat in sugar a spoonful at a time until meringue is stiff and shiny. Sprinkle over the cocoa and vinegar and chopped chocolate.
Gently fold in everything until cocoa is throughly mixed in.
Mount onto baking sheet.
Place in oven then immediately down the temp to 150 degrees.
Bake for 1 to 1 and a ¼ hours.
Turn off oven open door slightly and let it cool in oven completely. beat fresh cream with icing sugar till stiff, use half of it to sandwich the pavlova once the pavlova is cool. add half of the raspberries and some chocolate when you sandwich the pavlova. use the remainder for the top of the pavlova.
Comments ordered by Newest
---