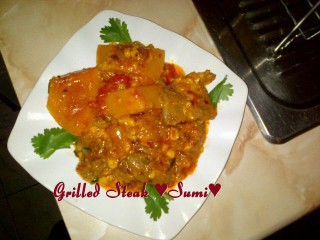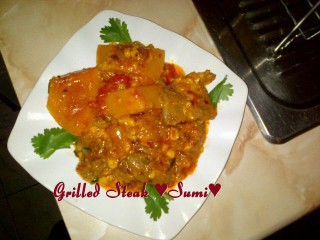 INGREDIENTS
T-Bone. Steak                                                         
 1 kg T-bone, 1 teaspoon salt,
2 tablespoon ginger garlic,
3 tablespoon lemon juice,
2 teaspoon steak and chops spice,
5 tablespoon oil
marinate everything together.


METHOD
Make a sauce with 3 tablespoon of each: garlic sauces, barbeque sauce, peri-peri, mustard, tomato and mayonnaise. Pour over marinated steak, pour over 1 tin cream style corn over it then slice onion tomato and butternut. Sprinkle with salt and pepper dot with butter cover with foil bake in oven for 1 hour.  Remove the foil and grill for few more minutes. Serve with bake beans, toast and chips


INFO & TIPS
Courtesy of khadija ebrahim. I used rump steak.
Comments ordered by Newest
---