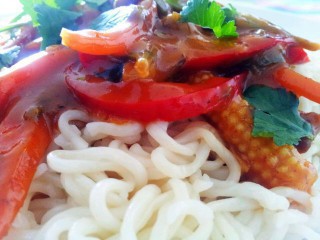 Shameema
Student Chef
I blog at www.whatshameemaate.wordpress.com :)
---

South Africa
Joined 12 years ago
INGREDIENTS
Steak, sliced into strips and marinated for half an hour in 2 tablespoons chilli garlic sauce and 1 teaspoon ginger garlic
¼ onion OR 3 spring onions, chopped2 cloves garlic, gratedTiny piece of ginger, sliced finely1 green chilli
½ red pepper, sliced½ green pepper, sliced1 pack baby corn, chopped into thumb-sized pieces1 carrot, julienned
Fresh dhania (coriander), chopped
Sauce - mix together:⅓ cup water¼ cup soy sauce¼ cup vinegar⅛ cup BBQ sauce¼ cup sweet chilli sauce2 tablespoons cornflour1 teaspoon chilli powder (or more, to taste)
Noodles, to serve
METHOD
1. Marinate the steak and prepare your vegetables.

2. Heat up the oil. Fry the onions and chilli. Add the garlic and ginger. Saute until aromatic.

3. Add the beef. Stir fry until just done. Using a slotted spoon, remove from the pot and leave aside.

4. Pour a little more oil into the pot. Turn up the heat to its highest setting. Stir fry the vegetables in this order, leaving a short gap in between each addition: carrots, corn, peppers. The veggies must still be crunchy.

5. Turn down the heat and add the sauce mix.

6. Add the meat.

7. Cook for about a minute longer, until the sauce thickens up.

8. Remove from heat. Sprinkle with dhania (coriander). Serve with noodles.
WOULD YOU LIKE TO ?

Shameema
Student Chef
I blog at www.whatshameemaate.wordpress.com :)
---

South Africa
Joined 12 years ago
COMMENTS
You May Also Like
Suggest Recipes