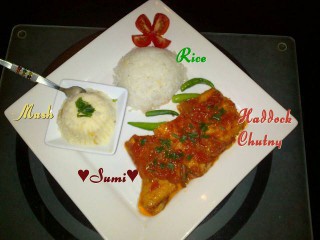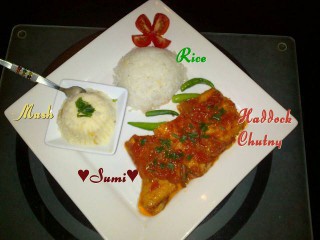 INGREDIENTS
1 onion chopped
quarter cup oil
7 tomatoes grated
1 teaspoon white pepper
1 teaspoon crushed red chillies or more if ҵ want stronger
2 green chillies
1 teaspoon sugar
Salt 2 taste
± 500g to 1kg haddock pieces


METHOD
1. Heat oil & braise onions til soft But not brown
2. Add in your tomatoes and rest of ingredients.
3. Cook on medium until al water is almost burnt out.
4. Put in haddock pieces and cook on low heat until fish is tender & oil comes up to the surface.
5. Garnish with spring onions and serve with mash and rice.



»̶ S̶̲̥̅̊um̶̲̥̅̊​A̶̲̅Ýa̶̲̥̅̊н̣̇ «̶ إبراهيم.
Comments ordered by Newest
---