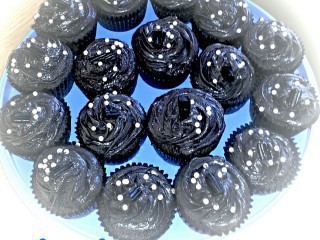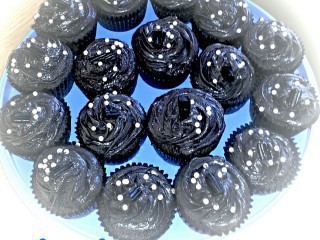 INGREDIENTS

• 250g soft butter
• 2 cups sugar
• 4 eggs
• 1 teaspoon vanilla essence
• 1 teaspoon licorice essence (if possible)
• a pinch of salt
• 4 teaspoon baking powder
• 3 & ½ cups flour
• 1 & ⅛ cups milk
• 5 long strands of licorice (allsorts)
• black gel colouring (cake flora/ americolor)
METHOD

● Beat the butter and sugar well.

● Add the eggs one at a time.

● Add the essences and salt.

● Sift the baking powder and flour (if not, it's okay)

● Add the flour and milk gradually.


● Cut up licorice pieces (3 strands) in a saucepan and add water.
●Let the licorice dissolve or get tinier.
(It should be gooey sticky kind)

● Add the licorice mixture into the cake batter.

● Add some black colouring to the batter.

● Bake on 180° for 10- 15minutes or till toothpick comes out clean.

★ Makes over 24 cupcakes.



FOR THE ICING YOU WILL NEED:

• 500g of wooden spoon margarine
OR
• 500g of butter.
AND
• 1kg icing sugar.

METHOD:

● Add butter in the mixer, let it beat for a while.
● Then add the icing sugar gradually till stiff.
● Add black colouring to the icing.

TOPPING:

Cut up the remaining strands of licorice and use as decoration.
INFO / TIPS / CREDITS
ENOY! BONNE APPÉTITE ♡
Comments ordered by Newest
---