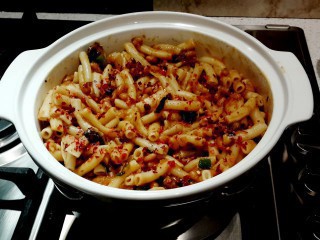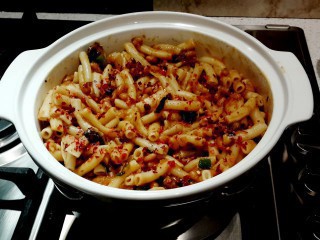 ---
Some guy from South Africa who loves to try out different things :P...
Joined 4 years ago
Zaheer's profile
Baked Beans Casserole
By Zaheer
- STUDENT CHEF
INGREDIENTS
Oil
1 Medium onion (chopped)
2 Green Chillies
1 teaspoon Garlic
½ teaspoon Chilli Powder
½ Dhanya Powder
¼ teaspoon Tumeric
1 heaped teaspoon Mix Masala
1 heaped teaspoon Jeera
½ teaspoon Sugar (discetionary)
2 Large tomatoes (liquidised)
Salt to taste
1 Packet mushroom Soup
½ Green Pepper
½ punnet brown mushrooms
Basil (ten leaves)
Crushed red chillies

2 Tins Baked Beans
500g Marcoroni
Dhanya

METHOD
-Heat oil in large pot. Add onions, saute until golden brown. -Add garlic, chillies, green peppers and mushrooms.
-Add spices and tomatoes. Allow to simmer for 15 minutes until the above ingredients are infused and a thick gravy is formed. Stir in mushroom soup and basil. Add water as required.
-Add baked beans and salt to taste. Simmer for 5 minutes.
-Boil pasta al dente with a tablespoon of oil (salt to taste). Strain and rinse with cold water.
-Layer beans sauce alternatively with pasta.
-Garnish with crushed red chillies and fresh dhanya.
INFO & TIPS
For an extra taste extravaganza , top with mozzarella, parmesan or a cheese of your choice.
Serve with olive oil, freshly ground black pepper or balsamic vinegar.
---
Some guy from South Africa who loves to try out different things :P...
Joined 4 years ago
Zaheer's profile
Comments ordered by Newest
---