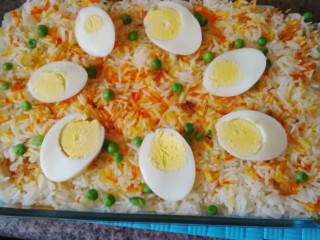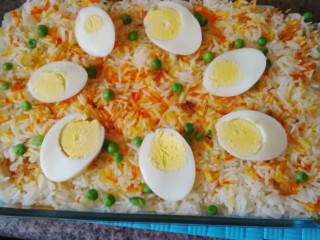 RECIPE
Mutton biryani Half kg mutton (boiled)
Marinate in:
1 tab ginger garlic
2 cinnamon sticks
2 cloves
3 whole pepper corns
1 teaspoon salt
1 teaspoon jeera
Half teaspoon rough chillies
1 teaspoon chillie powder
1 teaspoon green masala
Pinch saffron
Half teaspoon turmeric
4 tab tomato paste
2 tab lemon juice
Half cup buttermilk/yoghurt
1 grated tomato
Handful fried onions

Leave 2marinate few hrs or overnite.

Fry 2 potatoes (cut in cube) and leave aside.
Boil 2 cups rice and leave aside.

Place 2tab oil and 2tab ghee (Clarified butter) on base of pot.
Place meat and toss in potatoes.
Sprinkle green peas.
Place rice over.(reserve few tab rice and colour with egg yellow food colour)
Sprinkle remaining green peas and coloured rice.
Last sprinkle another handful fried onions.
Sprinkle quarter cup cold water and pour 2 tab melted ghee (Clarified butter) over the top.

Cover pot and steam in oven on 100 degrees for 30 - 40 minutes.

Serve with papar, dhai and boiled eggs!
Enjoy!
INFO / TIPS / CREDITS
* I braise the marinated mutton abit b4 setting d biryani.
Comments ordered by Newest
---