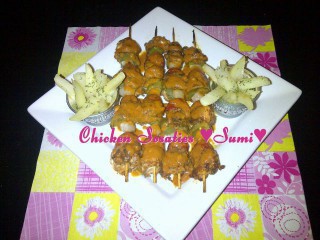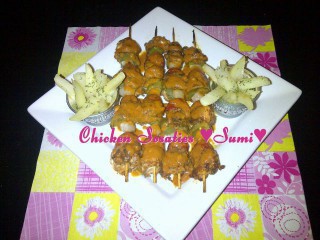 RECIPE
INGREDIENTS
1kg chicken breasts (cut in big cubes)

MARINATE IN:
1¼ teaspoon salt
1 teaspoon black pepper
1 teaspoon red chillies
3 tablespoon mayonnaise
3 tablespoon Italian salad dressing
1 teaspoon mixed herbs

Other items
1 bottle pickled onions
Pineapple cubes
3 green and red peppers

METHOD
Put the cubes of chicken on skewers with pickled
onions, peppers,
pineapple cubes (as desired).
Baste with butter and braai (bbq)
Serve on platters with sauce.

SAUCE:
125g melted butter
2 tablespoon tomato sauce
2 tablespoon mayonnaise
lemon juice to taste
Crushed garlic

Boil together and pour over chicken sosaties.
Comments ordered by Newest
---