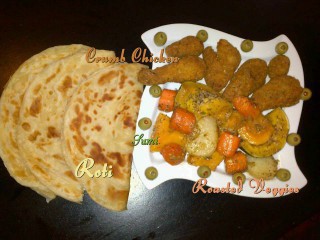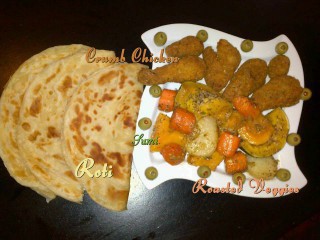 INGREDIENTS
3 cups flour
1 teaspoon salt
3 tablespoon melted ghee (Clarified butter)
2 cups boiling water
Half cup cold water


METHOD
1. Mix the flour , salt & ghee (Clarified butter) together

2. In a jug add the boiling water & cold water. 2gether.

3. Add water gradually to make a soft dough. Knead the dough for about 5 minutes. Close with lid & rest dough for ± 1 hour

4. Roll out dough in a big circle. Smear with melted ghee (Clarified butter) press fingers lightly in dough. Sprinkle with flour. Then roll dough up like a swiss roll.

5. Cut rolled up dough ± 7 pieces. Roll out each piece in a circle. Then smear ghee (Clarified butter) on each roti. Press fingers lightly & sprinkle flour. Roll up again like swiss roll. Roll up from one side to the other forming a S. Then put it together forming a circle.

6. Roll out into a circle to the size of a plate. Fry on tawa ( I use a bauer pan). Put in pan until bubbles form. Turn over. When bubbles form again turn over. Smear with melted ghee (Clarified butter). Turn over and smear with ghee (Clarified butter) again. Then remove from pan. Allow to cool on wire rack before putting it in tupperware. Enjoy.

NB. Rotis can be frozen after roasted on tawa. Cool it completely then ready to freeze.



»̶ S̶̲̥̅̊um̶̲̥̅̊​A̶̲̅Ýa̶̲̥̅̊н̣̇ «̶ إبراهيم.
INFO / TIPS / CREDITS
Hi Member. Sorry took so long to post recip. Hope you enjoy makin this recip.
Comments ordered by Newest
---