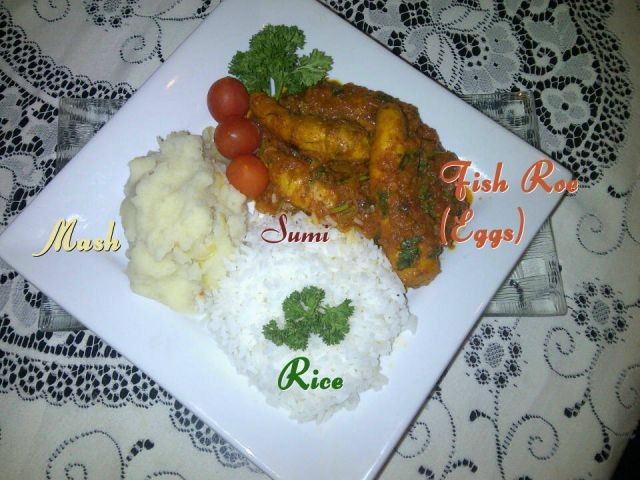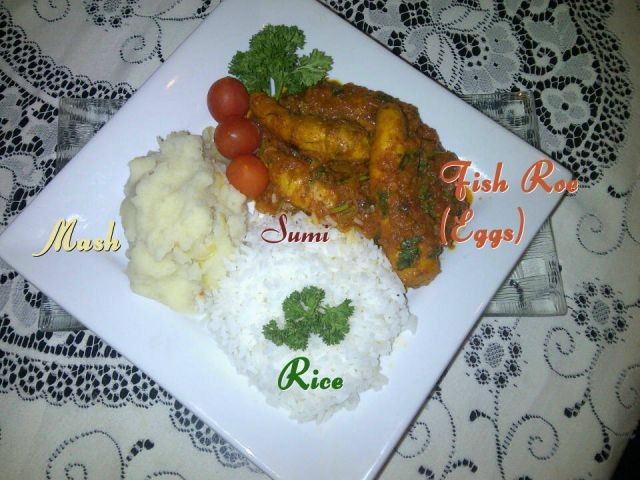 INGREDIENTS
500 g fish roe / eggs washed
Put in pot cover with water add 3tbls vinger and boil until fish eggs are stiff. Remove from stove & allow to cool. Once cooled of rub with fish masala ( u can use aminas wonder spice fish masala ) and fry in shallow oil for few minutes . keep aside

Chutney

1 onion chopped
¼ cup oil
½ teaspoon jeera seeds
1 teaspoon mix masala
½ teaspoon arad (Turmeric)
1 ½ teaspoon ginger garlic masala
2 teaspoon dana Jeeru (Cumin) powder
1 teaspoon crushed dhana
Salt 2 taste
Curry leaves
7 grated tomatoes
Green chillies


METHOD
Heat oil in a pot. Add onions & jeera & myk wagaar
Then add grated tomatoes and all the spices with garlic & ginger. Allow 2 cook on medium heat. When oil has come up 2 the surface add the fried fish eggs, curry leaves and green chillies. Allow to cook on low heat. Garnish with fresh chopped greens ( dhania (coriander) & spring oninos ) serve with rice & mash.


»̶ S̶̲̥̅̊um̶̲̥̅̊​A̶̲̅Ýa̶̲̥̅̊н̣̇ «̶ إبراهيم.
Comments ordered by Newest
---