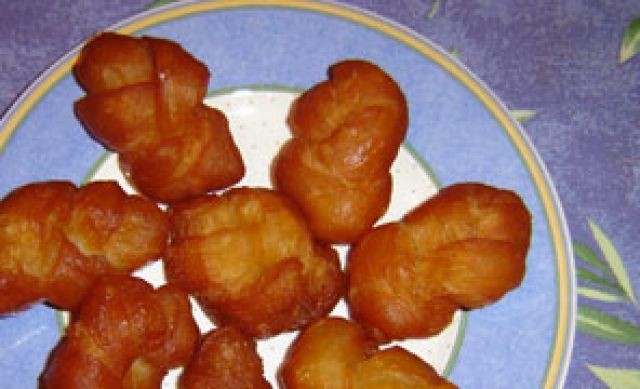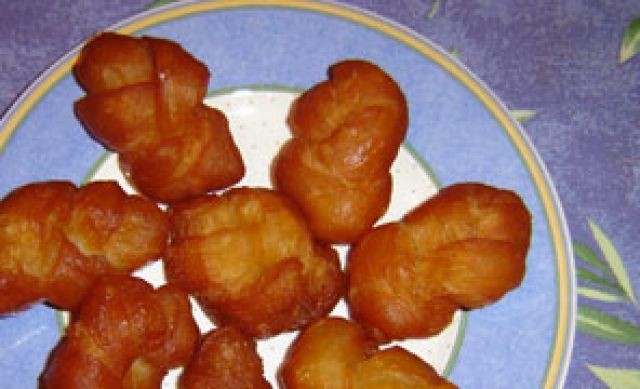 CREDITS
http://www.chirundu.com/cape-malay-koeksister-recipe-2009-12/
INGREDIENTS
• 6 medium potatoes, peeled and cubed
• 250ml (1 cup) milk
• 60ml (¼ cup) vegetable oil
• 60g butter, melted
• 1 large egg, lightly beaten
• 1 packet (10ml/2 teaspoons) instant yeast
• 60ml (¼ cup) sugar
• 5 x 250ml (5 cups) flour
• 5ml ( 1 teaspoon) salt
• 7ml (1 ½ teaspoons) ground cinnamon
• 5ml (1 teaspoons) ground ginger
• 2ml (½ teaspoon) ground cloves
• 5ml (1 teaspoon) ground naartjie peel
• 2ml (½ teaspoon) ground cardamom
• 5ml (1 teaspoon) whole aniseed
• Vegetable oil for deep frying

Syrup:
• 250ml (1 cup) water
• 250ml (1 cup) sugar
• 2 green cardamom pods
• 1 stick cassia, or cinnamon
• Desiccated coconut, for sprinkling over
METHOD
Preparation:• Boil the potatoes in water until sift.• Drain and mash roughly.• Add the milk, 60ml (¼ cup) vegetable oil, butter and egg.• Mash well making sure there are absolutely no lumps.• Place the yeast, sugar, flour, salt and all the spices in a large mixing bowl.• Add the mashed potato mixture and mix well to form a smooth dough.• Cover the dough with cling wrap and leave in a warm place to rise until doubled in volume (about 1 hour).• Knock down the dough and turn out onto a well-floured surface.• Form into oblong shapes (60mm x 25mm or 2 ½ inch x 1 inch) and allow to rise for 15 minutes.• Deep fry in hot oil until golden brown.• Remove with a slotted spoon and drain on kitchen paper towel.
To make The Syrup:• Place all the ingredients for the syrup in a saucepan and bring to the boil.• Stir over low heat until syrup forms a film on the spoon.• Dip the koeksisters in the hot syrup.
To Serve:• Sprinkle with coconut on all sides.
Comments ordered by Newest
---