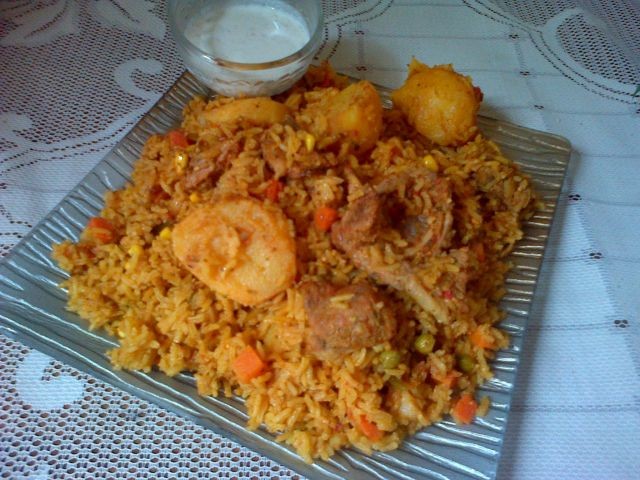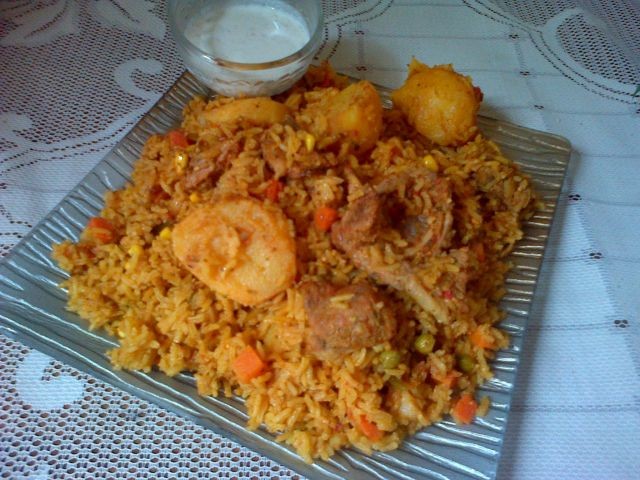 RECIPE
1 chicken or 1 kg mutton meat
1 large onion finely chopped

Soak 2 teaspoons whole Jeeru (Cumin)
5 cardomon pods
7 cloves,
2 cinnomon sticks
and 12 black peppercorns.
Leave aside.
Braise onions in little oil and just before it turns
gold
add in the soaked spices with the water
and close the lid of the pot, this
gives it a lovely flavor.
When onions are golden add your chicken
or meat pieces and 1 tablespoon ginger garlic 1 teaspoon salt, 2
teaspoon Jeeru (Cumin) powder,½ teaspoon turmeric.
Let it cook until done then add 2 cups
Liquidized tomato and 1 green pepper liquidized with 3 teaspoon paprika and hot
chilli powder according to taste, and 2 teaspoon
dhania (coriander) (coriander) powder
Cook
Just half an hour before lunch time add
water about 4 and half cups and
for 2 and half cups rice add 2 teaspoon salt
When water boils add your soaked rice and

to 10 pieces of fried potatoes.and 1-2 cups frozen vegetables..Cook on high
heat and stir the rice several times.
When little water left simmer and cover
lid till rice is cooked.steam
Garnish with fresh chopped corriander.
Comments ordered by Newest
---