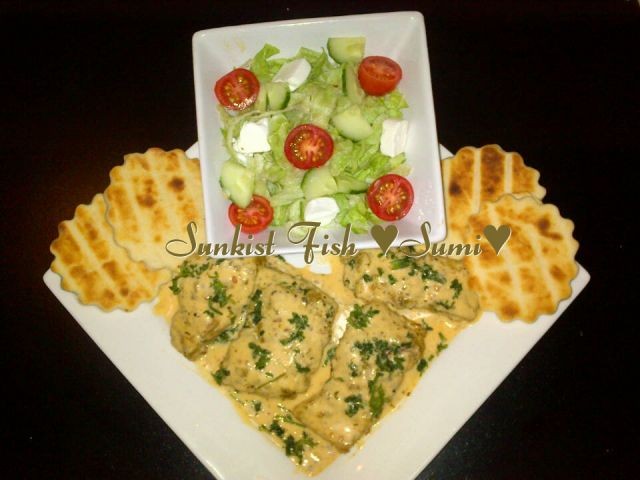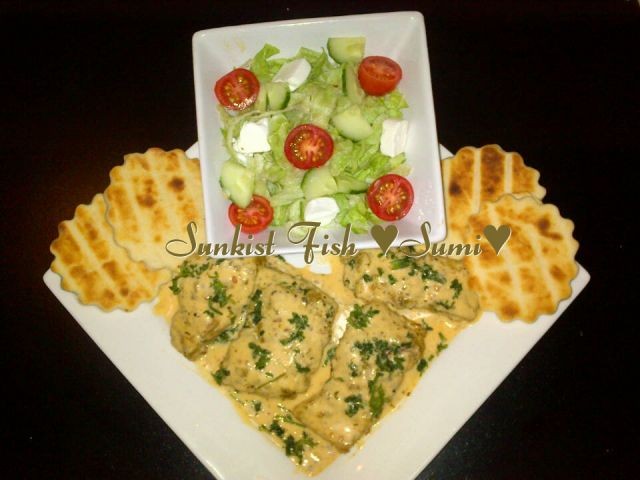 39
favs
0
coms
6.1K
views
RECIPE
Marinate 2 whole red fish
2 teaspoon garlic 2 teaspoon salt1 teaspoon chillie paste2 teaspoon crushed green chillies1 teaspoon chillie flakes¼ teaspoon huldi 1 teaspoon lemon pepper dash of black pepperlemon juice &vinegarfry in oil till crispmake sauce with:half cup fresh cream2 tablepsoon peri peri garlic sauce2 tablespoon peri peri lemon &herb sauce1 slice garlic butter 1 teaspoon chillie flakes
boil till thick pour over fried fish garnish with lemons serve with savoury rice and butter naan &salad
INFO & TIPS
I made some adjustments.
I used hake fish.
I used green masala instead of chillie paste and chillie flakes.
To the sauce I also added 2 tbls of steers garlic sauce.
Very deliches fish dish.
Give it a try.
This recipe would be ideal for prawns. I will try it out.
Comments
Ordered By Newest
---
---
Suggest Recipes
You May Like
Sunkist Inspired Fish is part of the
Seafood
recipes category