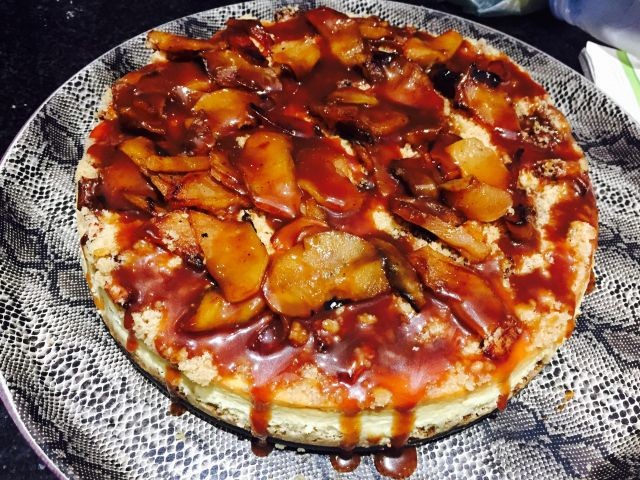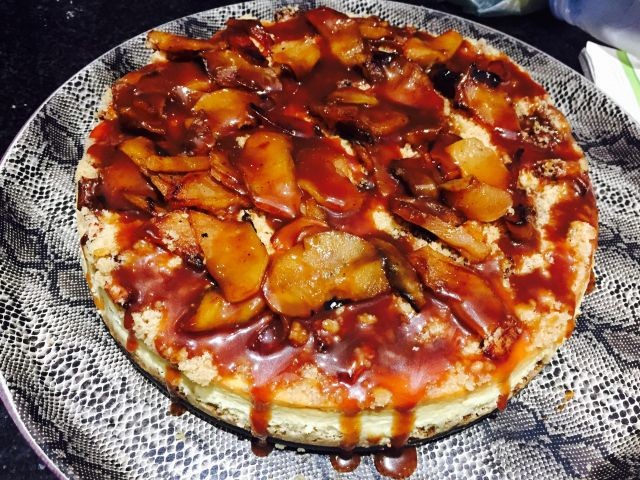 Salted Caramel And Apple Cheesecake
By Meera
- STUDENT CHEF
INGREDIENTS
For the base:
175g Ginger snaps , finely crushed
50g walnuts
75g butter, melted
½ teaspoon ground cinnamon
For the filling:
400g cream cheese, at room temperature
3 eggs
½ teaspoon vanilla extract
1 tablespoon cornflour
100ml sour cream
1/2cup Apple puree (woolies)
For the topping:
2 apples, peeled and thinly sliced
15g butter, melted
1 tablespoon light brown treacle sugar
½ teaspoon ground cinnamon
25g walnuts, roughly chopped
METHOD
Place the cream cheese, sugar, eggs, vanilla extract and cornflour in a large bowl and beat until thick and creamy. Fold in the sour cream and finally the apple puree. Mix well until thoroughly combined, then pour over the biscuit base and smooth the top with a palette knife.

For the topping, place the apples, butter, sugar and cinnamon in a bowl and toss gently with your hands until all the apple slices are evenly coated. Lay slightly overlapping slices of apple on top

Place the tin on a baking sheet and bake in the centre of the oven for 20 minutes, then reduce the oven temperature from 150C - 130C Scatter the remaining chopped walnuts over the surface of the cheesecake and bake for a further 20-25 minutes. The cheesecake should still have a slight wobble in the centre. Remove from the oven and run a round bladed knife around the outside of the cheesecake. Set in fridge overnight

Salted caramel sauce

1 cup sugar
¼ cup water
1 teaspoon Golden syrup (can be omitted but helps reduce crystallization)
½ cup whipping or heavy cream
1 tablespoon vanilla extract
½ to 1 teaspoon salt, optional and to taste (I use 1 teaspoon)

Boil sugar syrup till it starts getting brown and sticky then add cream, it boils up so bearly cautious...
Don't stir the sauce with a spoon, swirl the pot.
INFO & TIPS
For best result with cheescake, cover the pan in foil and bake in water bath...
Comments ordered by Newest
---