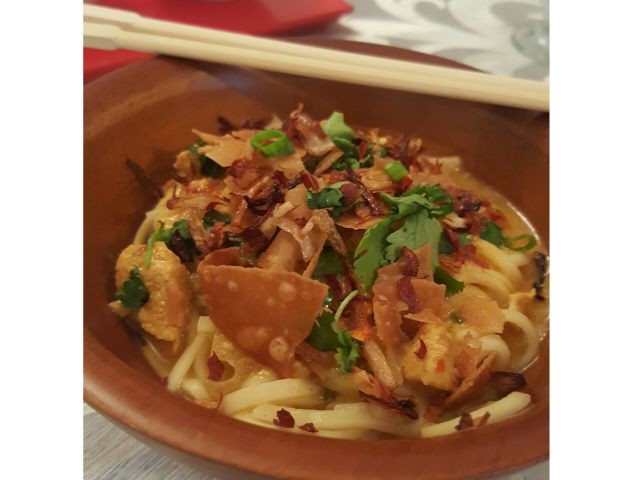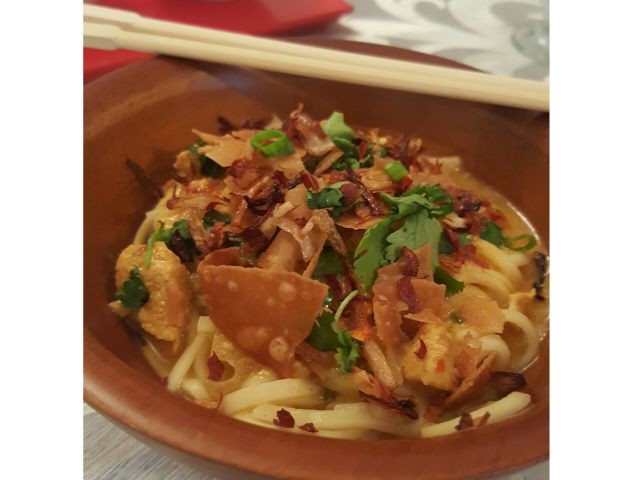 INGREDIENTS
Malaysian Laksa is soup like dish served with rice noodles & topped with a variety of toppings.
The main part of the dish is the laksa paste which gives the dish all of its flavour

Laksa paste:
2 inch piece of ginger
2 stalks of lemon grass (grate the stalk part)
4 dried red whole chillies soaked in boiling water
½ teaspoon ground tumeric or u could use a piece of a fresh one
2 cloves garlic
1 teaspoon paprika
Small handful of coriander stalks & leaves
½ teaspoon cumin powder
½ teaspoon coriander powder
½ teaspoon salt
5 cashew nuts
1 tablespoon vegetable oil
Grind all of above into smooth paste

and.B the original laksa paste includes shrimp paste into this mixture. It's quite a strong fishy taste so I opted not adding it as I know it's an acquired taste and something my family wouldn't like

Braise a small chopped onion in some butter. Add the laksa paste till the aroma comes out, then add in a cup of cubed chicken fillet. Allow to cook for a few minutues. If u would like to add some prawns as well then u could do this at this stage. (they should be shelled & deveined) Add a cup of chicken stock and cook for 10 minutues. Mix 1 tablespoon palm sugar with 2 tablespoon lemon juice and add to laksa. Then add ½ cup milk & 1 cup coconut cream. Garnish with spring onions & chopped coriander
and.B fish balls & tofu is also normally added to this dish but I did not

Soak rice noodles in boiling water & allow to soften

Toppings:
Thinly sliced garlic cloves fried till golden brown
Sliced onions fried till golden brown
Sliced green chillie fried till slightly crisp
Fried pur
Lemon slices
Bean sprouts
Chopped spring onions & coriander


METHOD
Malaysian Laksa
@Allthingsnice_dubai

Malaysian Laksa is soup like dish served with rice noodles & topped with a variety of toppings.
The main part of the dish is the laksa paste which gives the dish all of its flavour

Laksa paste:
2 inch piece of ginger
2 stalks of lemon grass (grate the stalk part)
4 dried red whole chillies soaked in boiling water
½ teaspoon ground tumeric or u could use a piece of a fresh one
2 cloves garlic
1 teaspoon paprika
Small handful of coriander stalks & leaves
½ teaspoon cumin powder
½ teaspoon coriander powder
½ teaspoon salt
5 cashew nuts
1 tablespoon vegetable oil
Grind all of above into smooth paste

and.B the original laksa paste includes shrimp paste into this mixture. It's quite a strong fishy taste so I opted not adding it as I know it's an acquired taste and something my family wouldn't like

Braise a small chopped onion in some butter. Add the laksa paste till the aroma comes out, then add in a cup of cubed chicken fillet. Allow to cook for a few minutues. If u would like to add some prawns as well then u could do this at this stage. (they should be shelled & deveined) Add a cup of chicken stock and cook for 10 minutues. Mix 1 tablespoon palm sugar with 2 tablespoon lemon juice and add to laksa. Then add ½ cup milk & 1 cup coconut cream. Garnish with spring onions & chopped coriander
and.B fish balls & tofu is also normally added to this dish but I did not

Soak rice noodles in boiling water & allow to soften

Toppings:
Thinly sliced garlic cloves fried till golden brown
Sliced onions fried till golden brown
Sliced green chillie fried till slightly crisp
Fried pur
Lemon slices
Bean sprouts
Chopped spring onions & coriander

Plating
Make sure the noodles & laksa are nice & hot
Spoon in some noodles into soup bowl. Pour over a generous serving of the laksa. Top with all the toppings & a squeeze of lemon juice
Enjoy!
Comments ordered by Newest
---