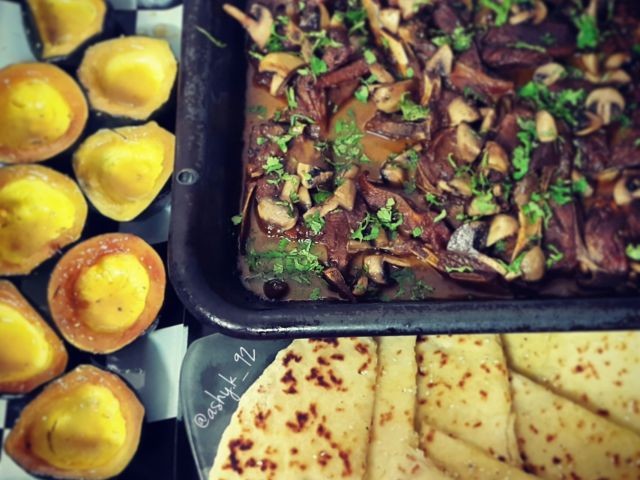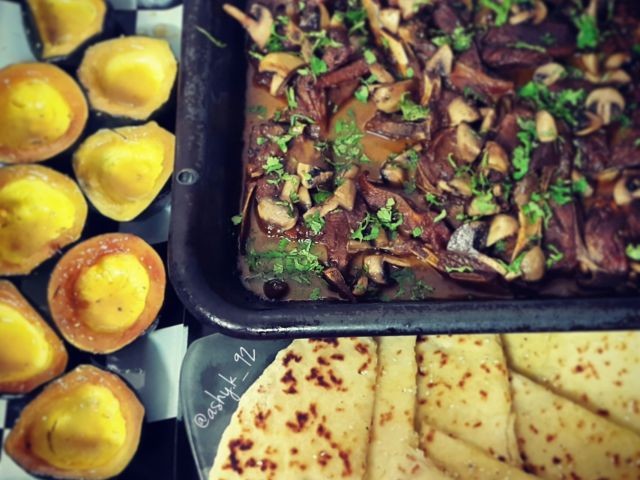 *baked Saucy Chops With Mushrooms*
By Ashy.k
- SOUS CHEF
RECIPE
@ashy.k_92

Marinate 1 kg of shoulder chops in the following overnight:

1 teaspoon black pepper
1 teaspoon Lemon pepper
1 teaspoon steak and chops spice
1 teaspoon Bbq spice
½ teaspoon cayenne pepper
½ teaspoon green masala
1 teaspoon meat tenderiser
3 tablespoon lemon juice
2 tablespoon olive oil
2 tablespoon peri peri sauce
2 tablespoon tomato sauce
2 tablespoon soya sauce
2 tablespoon Worcester sauce
3 tablespoon garlic sauce
¼ cup pepper sauce
3 tablespoon golden syrup
Preheat oven to 200g.
Pour 1 cup water over chops and bake for 1hr45min covered with foil. Add some water and bake uncovered for another 30min. Cut 1punnet mushrooms in quarters. Heat some olive oil in a pan with garlic flakes and salt. Sauté mushrooms in oil. Add over chops and bake for 5-10min.

I served with gemsquash and butter naan.

Gemsquash with caramelised butter

Cut 4small gemsquash in half. Place upside down in a pot and steam untill done. Add
45g butter
4 teaspoon brown sugar
1 teaspoon salt
Cook on low untill butter starts to caramelise. Place in a platter and pour butter sauce over.
Comments ordered by Newest
---