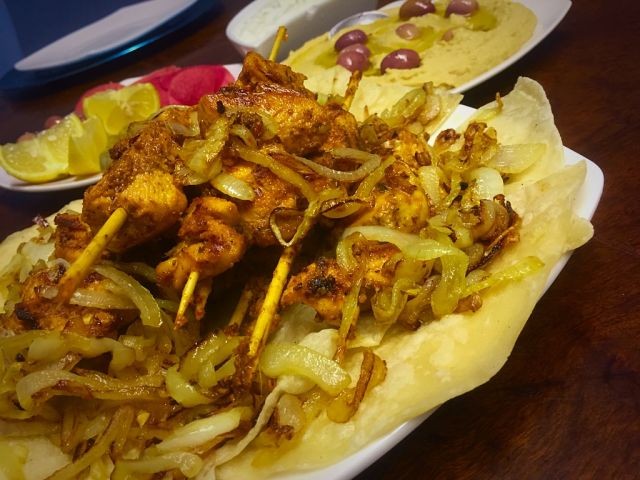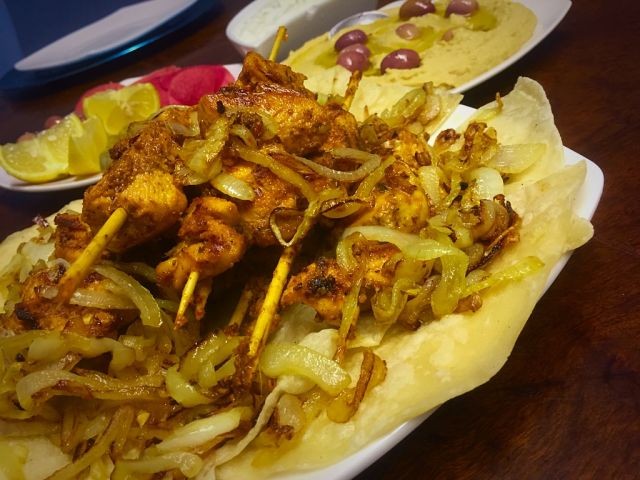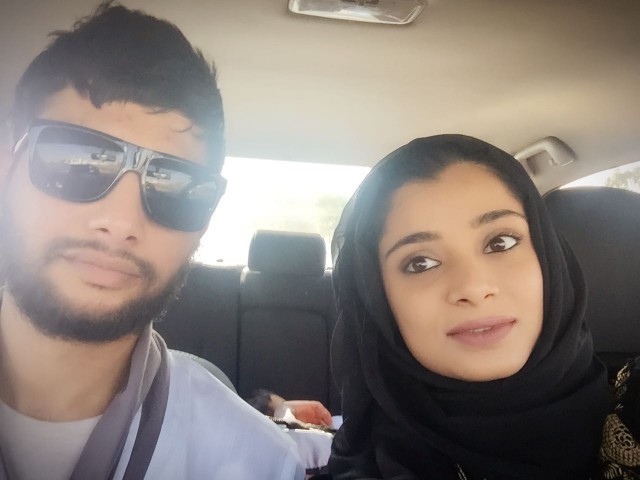 ---
Blogger | www.funkyhijabi.com for the love of style hijab and food

My name is Mashuda & i am Mr Admins wife :-)

I'm passionate when it comes t...
Joined 7 years ago
Mrs Admin (mashuda)'s profile
INGREDIENTS
4 chicken fillets washed and cut into big cubes
1 tablespoon fresh garlic crushed
1 teaspoon red chilli paste
1 lemon freshly squeezed
1 teaspoon chicken spice / bbq spice
½ teaspoon black pepper
¼ teaspoon cinnamon powder
½ teaspoon cayenne pepper
1 teaspoon oregano
½ teaspoon jeera powder
some fresh mint chopped fine
1 teaspoon sumac ( if you have )
salt to taste

1 small sachet tomato paste
3 tablespoon yogurt
3 tablespoon olive oil

1 big onion or 2 small thick slices

Pita :
3 cups flour
r 1 teaspoon salt
t 1 tablespoon yeast
1 1⁄2 cups warm water
1 tablespoon olive oil


METHOD
add everything in a bowl mix add the chicken mix and allow to marinade over night or atleast 1 hour .

place about 3 or 4 pieces on a skewer .
in a big pot add some oil and cook chicken until almost done .
before serving place on a griller and grill until nice and smokey .

In the meantime saute onion in some oil with 1 tablespoon sugar until soft , garnish with onions .
( try not to leave the onion step out , this gives it a even better taste ) .

serve with chips and pita bread or any flat bread
I serves with tzatziki , humus and tomato salsa

pita :
Add all ingredients together , mix , make a sticky dough , add more water if needed . Knead the dough on a lightly floured surface for 5 minutes .Rise for 30 minutes or more . If you are making mini pitas divide dough into 12 to 15 small balls , if you making big pitas then 6 equal balls . Place on a floured tray and allow to rest for 10 minutes .
Comments ordered by Newest
---