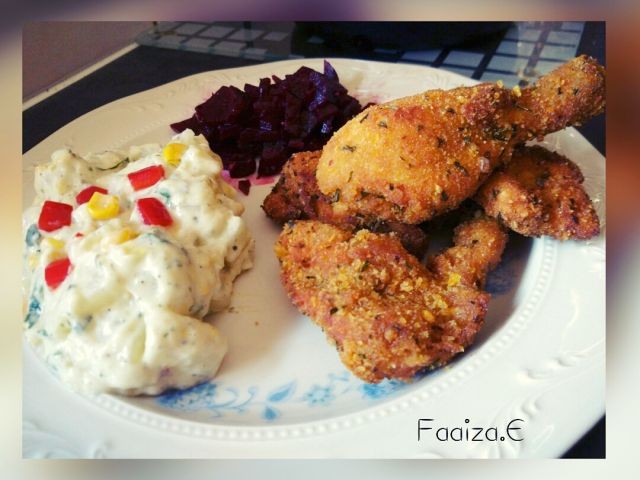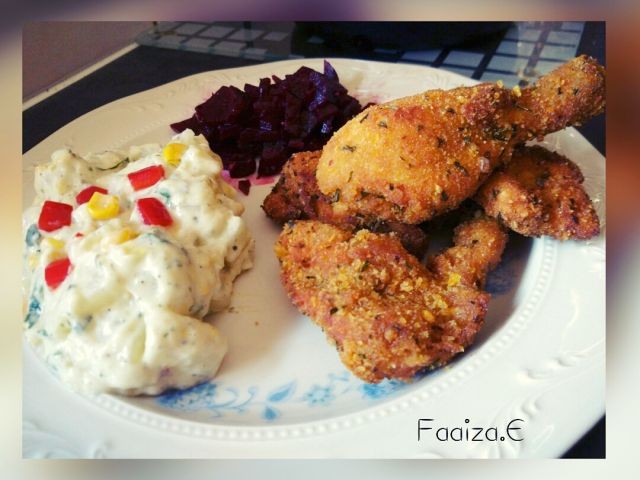 Simple Crumbed Chicken With Potato Salad
By Faaiza
- KITCHEN HAND
RECIPE
Simple Crumbed Chicken
Recipe credit :Faaiza E

1 chicken washed and cut into 10 pieces

1 teaspoon Aromat (a South African Spice)
½ teaspoon arad (Turmeric)
1 teaspoon Red chillie powder or to taste
1 teaspoon dhana Jeeru (Cumin)
1 teaspoon Ginger garlic masala
2 tablespoon tomato sauce.
2 tablespoon vinegar
Marinate chicken in above and cook on medium heat till cooked and dry.
Allow to cool slightly.
Coat in flour then beaten egg then in cornflake crumbs.
Fry in shallow oil just till brown and crispy.
*No need to fry for very long as chicken is already cooked.
*season crumbs with parsley or coarse red chillie flakes...Just for pretty 😄
*the crumbed chicken can be frozen after coating.
Allow to defrost, put in deep fryer till heated through OR shallow fry till nicely heated through and brown.

..Potato Salad..

4-5 medium potatoes peeled, cubed and boiled in salted water.
do not use the Up to Date potatoes as they become very mushy.
Allow to cool.

Salt
Lemon pepper
Black pepper
Ina Paarmans Green onion spice
Sugar
Crushed Green chillies -optional
All the above to taste
Half tin creamstyle corn
Half cup yoghurt Or Maas
* I use leftover dhai that I have in the fridge*
Half cup mayo
2 tablespoon Garlic sauce
2 tablespoon nandos pepper sauce
Chopped shallot and dhania (coriander)
Red peppers for deco.
Chopped onion (optional)
grated carrot (optional)

Mix everything together.
Toss boiled potatoes inside.
Serve chilled.

Comments ordered by Newest
---