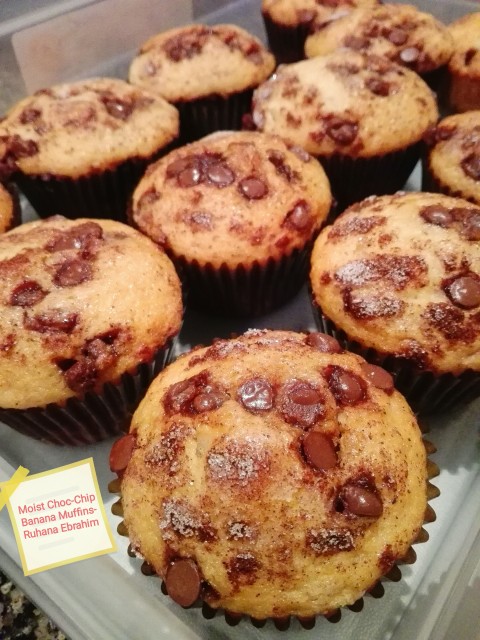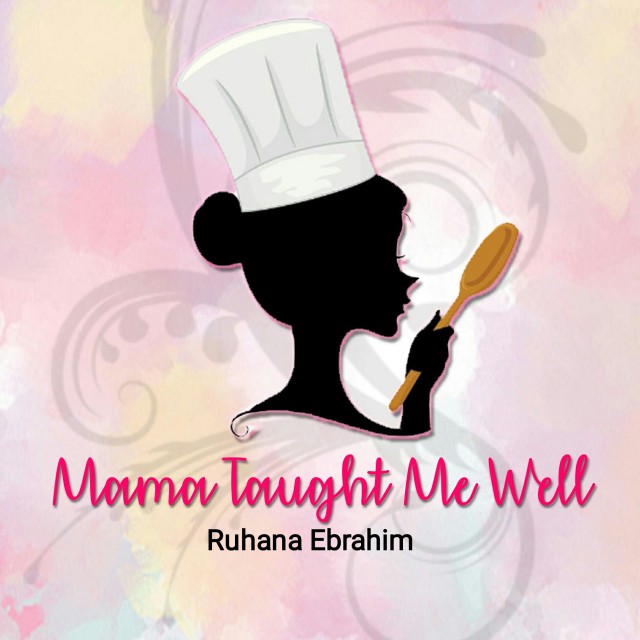 Ruhana Ebrahim
Grand Master
Interior Decorator.
Foodie!
Food styling.
Fusion Cooking.
Recreational baker.
Food Author of "Oh My Cupcakes!"
Mum and wife.
(Another 2 books on the way Insha Allah!)
---

South Africa
Joined 6 years ago
---
@mama_taught_me_well
RECIPE
Moist Choc-Chip Banana Muffins

Rec cred: @shakerahmoosa
Pic cred: @mama_taught_me_well

Ingredients:
⅓ cup (80mls) melted butter
⅓ cup (80mls) vegetable oil
¾ cup brown sugar
1 large egg
2 teaspoon vanilla essence
3 large bananas lightly mashed
2 cups sifted flour
1 teaspoon baking powder
1 teaspoon bicarb of soda
¼ teaspoon fine salt
¼ teaspoon nutmeg powder
½ teaspoon cinnamon powder
1 cup buttermilk

Filling:
¼ cup sugar mixed with ½ teaspoon of cinnamon powder
½ cup chocolate chips

Method:
1. Preheat oven to 180 degrees.
2. Line 19 muffin cups. Set aside.
3. Whisk dry ingredients together in a medium bowl. Set aside.
4. Lightly mash bananas in a small bowl. And set aside.
5. Beat butter, oil and sugar on high speed in a large bowl for 2 to 3 minutes. 
6. Add in egg and vanilla essence and beat on high till well combined.
7. Beat in bananas on high till well combined.
8. Add ⅓ flour with some buttermilk. Beat on low till just combined.
9. Add another ⅓ flour and some buttermilk on low speed till just combined.
10. Add remaining flour and remaining buttermilk on low speed and beat till just combined. Do not overmix.
11. Pour 30 mls of batter in to lined cups and sprinkle over some chocolate chips and ¼ teaspoon of cinnamon and sugar mixture.
12. Top up with 30 mls more of batter and sprinkle few chocolate chips over and bake for 20 minutes.


POSTED ON
20 Dec 2017
WOULD YOU LIKE TO ?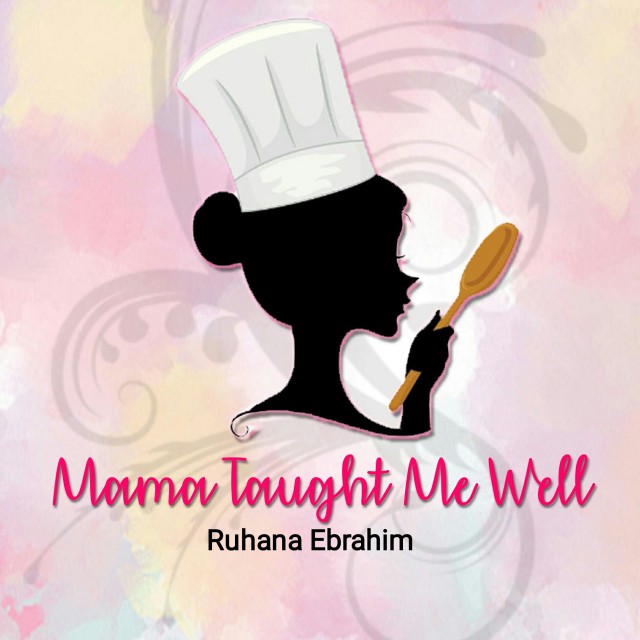 Ruhana Ebrahim
Grand Master
Interior Decorator.
Foodie!
Food styling.
Fusion Cooking.
Recreational baker.
Food Author of "Oh My Cupcakes!"
Mum and wife.
(Another 2 books on the way Insha Allah!)
---

South Africa
Joined 6 years ago
---
@mama_taught_me_well
COMMENTS
You May Also Like
Suggest Recipes