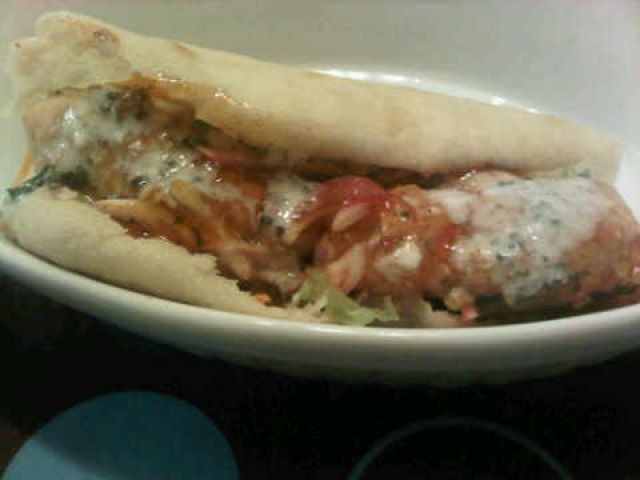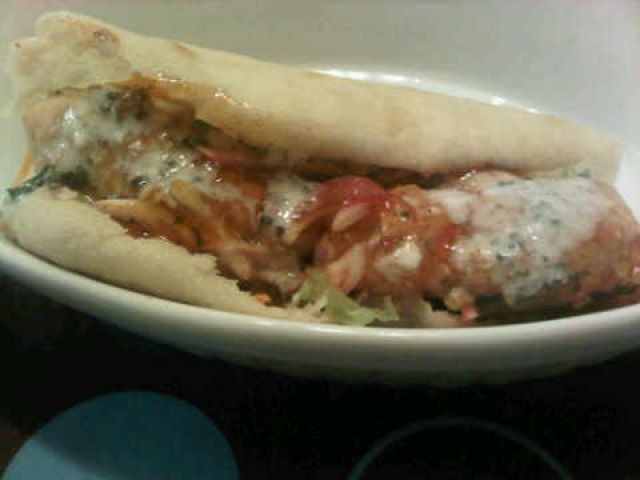 INGREDIENTS
1 KG beef cubes washed and drained
mince with 1 med onion
1 firm med size ripe tomato
3 green chillies
a handful of chopped coriander
once minced add a teaspoon of garlic paste,salt to
taste and a slice of bread soaked in
water,squeezed.

sauce 1 - a med sized onion sliced finely
2 teaspoon sugar
½ teaspoon salt
1 teaspoon sweet ambli juice
1 teaspoon dried mint
3 tablespoon brown vinegar
mix all together and let it marinate for at least
an hour

sauce 2 - 1 green chilli,
a handful of chopped coriander,
2 teaspoon sugar,and ½ teaspoon garlic. pound all
together till it is a fine paste and then add a
cup or 2 of yoghurt. mix well and refridgerate.

sauce 3 - 1 med onion chopped finely,1 firm ripe
red tomatoe chopped finely. a green chilli sliced
finely and 2 teaspoon of chopped coriander leaves. add
4 tablespoon vinegar,salt and 1 teaspoon chilli powder.
combine and leave aside for an hour.

ready made naan
shredded lettuce and carrots
METHOD
shape the mince into long kebabs and either char
grill them or grill in the oven basting with
vegetable oil as turning them till done.
slit the naans into pockets and fill with the
lettuce and carrots.now add a kebaab or two
according to the size of the naan.
now put a spoon of sauce 1 and then sauce 2 and
lastly the sauce 2.
serve immediately.
Comments ordered by Newest
---