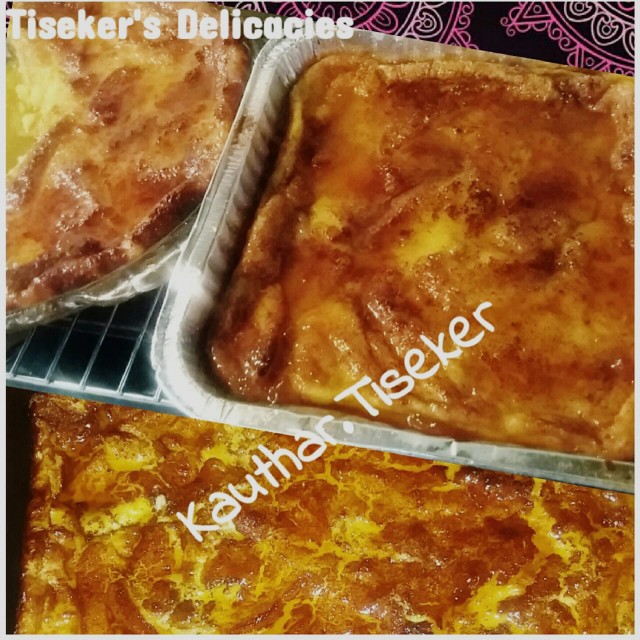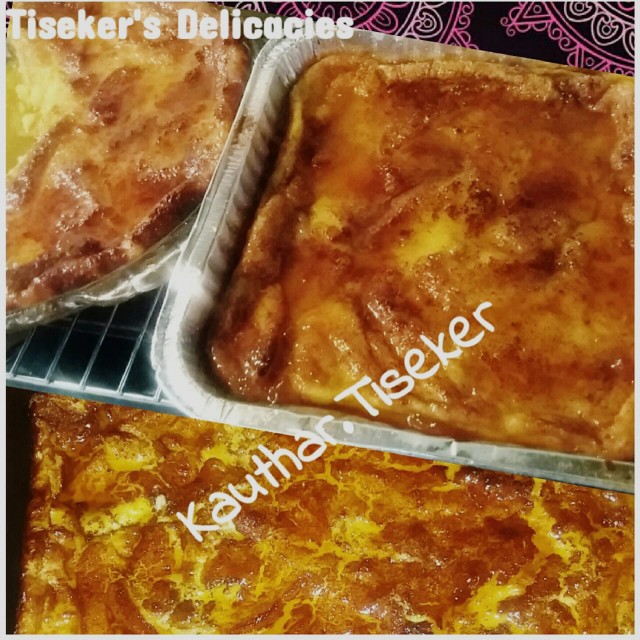 33
favs
0
coms
2.4K
views
INGREDIENTS
8 slices of white bread1 cup of sugar4 eggs1 litre of milk1 teaspoon vanilla essence 25ml custard powder4 cardamon2 stick cinnamon3 tblspns coconutCinnamon powderFew blobs of Butter3 tblspns jam
METHOD
1-Break the bread in pieces and place in a mixing bowl. 2-Pour the milk over the bread to soak.3-In a seperate bowl, beat the eggs, sugar and vanilla essence. 4-Add the custard powder and beat until thoroughly mixed.5-Add the egg mixture to the soaked bread and mix until well combined. 6-Add cardamom and stick cinnamon. 7-Pour into a greased oven dish that is deep enough.(mixture rises in oven)8-Sprinkle coconut and cinnamon powder over.9-Add blobs of butter to the top. 10-Bake @ 180°C for 40 minutes to 1 hour or until set.11-Remove the dish from the over12-Heat the jam and brush gently on top of the bread pudding
ENJOY
INFO & TIPS
You can remove the crust from the bread if you want, I use the crust as well.
Make sure the oven proof dish is deep enough, at least 3cm on top of mixture for it to raise.
Bread Pudding May be served with warm custard
Ideal for cold winter Dessert or throughout the year.
Comments
Ordered By Newest
---
---
Suggest Recipes
You May Like