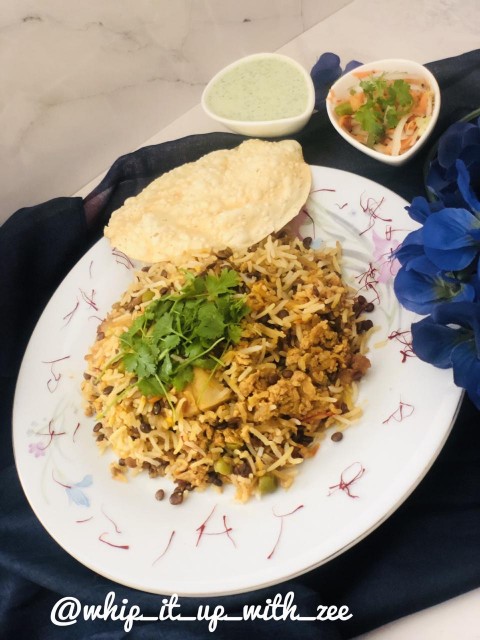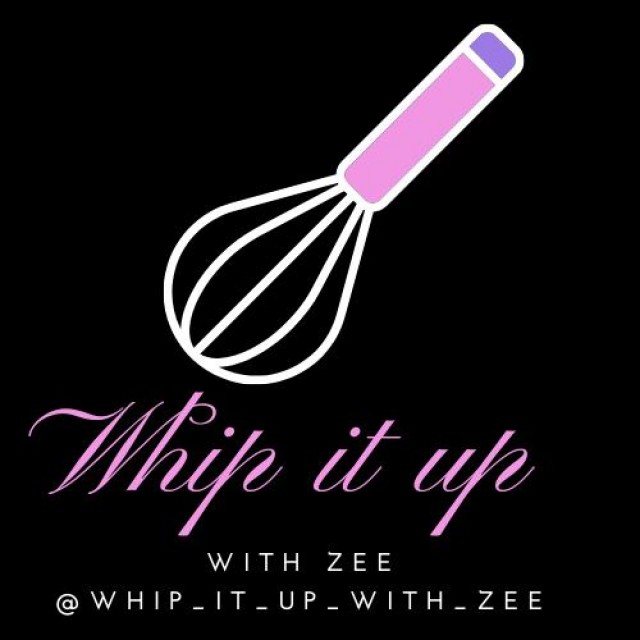 Zurayda
Master Chef
I'm just someone that loves to cook and bake.
I love to help anyone,who would like to learn to make tasty and easy meals
Anyone can cook or bake!!
So,always believe in yourself😘
---

South Africa
Joined 8 years ago
---
@whip_it_up_with_zee
CREDITS
📜and 📸 credit
@whip_it_up_with_zee


INGREDIENTS
1 kg beef mince or any mince of your choiceI used chicken mincea few peppercorns,cloves,3 Elachi (cardomom),2 cinnamon sticks2 medium onions sliced3 tomatoes liquidised2 tablespoons red chilli ginger garlic masalaSalt to taste1 teaspoon haldi (tumeric)2 heaped teaspoon fine dhana (coriander)1 heaped teaspoon fine jeera (cumin)2 teaspoon coarse red chillies.(If you want it hotter you can add more chillie)1 teaspoon gharam masala½ cup inkomaze (sour milk)1 cup frozen peas

2 cups Basmati rice 2 whole cardamon2 cinnamon sticks
1 cup Masoor (Back lentils) (Lentils)
3 potatoes peeled and cut onto quarters Fry your potatoes in oil and set aside.
2 onions Fry onions untill golden brown remove with a slotted spoon from the oil and set aside.This is the onions placed on-top of the rice
METHOD
2 onions Fry onions untill golden brown remove with a slotted spoon from the oil and set aside.This is the onions placed on-top of the rice
Saute onion in oil,add the red ginger garlic masala and braise a little.Add the mince and cook untill the colour changes.Add the rest of the dry spices.Braise a little.Add the liquidised tomatoes and peas close the pot.Cook untill the moisture evaporates and the mince is a still moist.Add the inkomaze and cook a few minutes,don't dry out the mixture
Boil 2 cups rice in 1 teaspoon salted water,with 2 cinnamon sticks and 2 whole cardamom untill it still has a hard kernal in the middle.Drain in colander and rinse.
Boil Masoor (Back lentils) with half a teaspoon salt and a pinch of tumeric (haldi)Untill soft drain in a colander and rinse.(Make sure the lentils are soft,no hard center.
Take a large pot,line with foil,shiny side up.Pour some sunflower oil over the foil,just a thin layerSprinkle a little lentils,layer the mince,layer half of the potatoes on top.Layer the rice and the rest of the potatoes.Sprinkle some saffron strands amd fried onions over the rice Sprinkle about ¾ cup of water over.Close the pot and steam on medium heat.After about 15 minutes turn heat down to low.You can check the rice and add more water to continue steaming about half a cup.Check again after another 15 minutes if the rice is still not soft add a little more water and continue steaming untill your rice is cooked.
Serve with dhai(sourmilk mixed with green chutney)500ml Sour milk 125ml plain yoghurtHalf a bunch coriander Handful mint leaves2 green chillies2 cloves garlicSalt to taste 1 teaspoon fine jeera (cumin)Place all the ingredients into a blender and blend untill combined.Serve witn papadoms,salad,or khachoomer (mixed salad)I made mine with grated carrots,slice onions,chopped coriander and sliced green chillie season with black pepper,salt and lemon juice.
INFO & TIPS
Check out my insta page for step by step highlights
POSTED ON
28 Mar 2020
WOULD YOU LIKE TO ?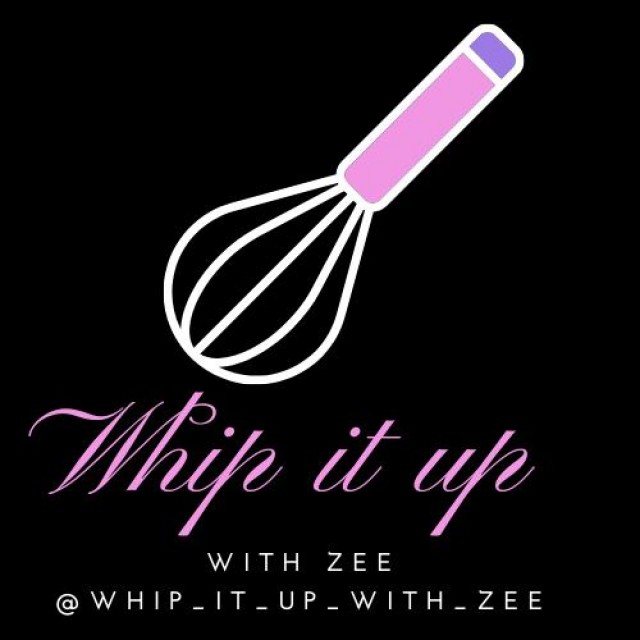 Zurayda
Master Chef
I'm just someone that loves to cook and bake.
I love to help anyone,who would like to learn to make tasty and easy meals
Anyone can cook or bake!!
So,always believe in yourself😘
---

South Africa
Joined 8 years ago
---
@whip_it_up_with_zee
COMMENTS
You May Also Like
Suggest Recipes