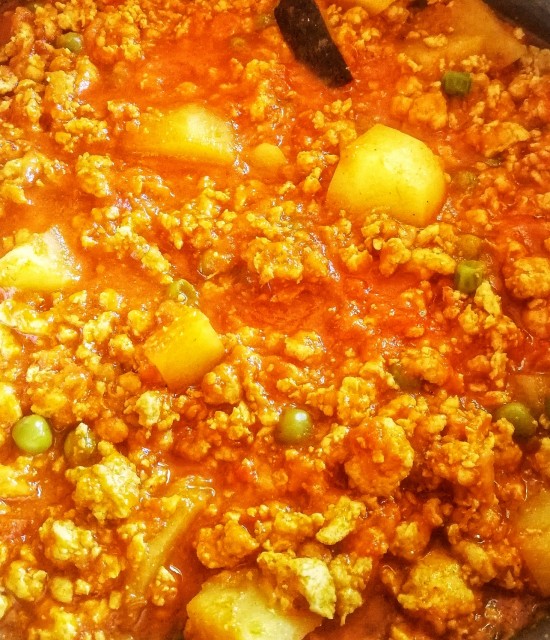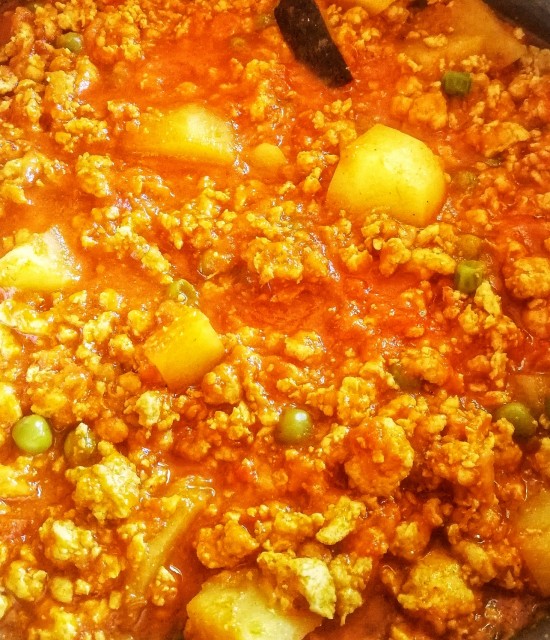 33
favs
1
coms
2.1K
views @saadia_b_
SOUS CHEF
40
75.8K
68

Creative expression, real, soul-full content...
Good Old Fashioned Mince Curry And Rice
By @saadia_b_
- SOUS CHEF
CREDITS
INGREDIENTS
For 1 kg of mince :(I used chicken mince)
2 large onions 3 medium cinnamon sticks3 cloves1 teaspoon cumin seeds2 cardamom pods bruised very lightly4 whole pepper corns 2 whole green chilli (optional - pierced lightly)
1 tablespoon red ginger garlic paste (up to 2tbl is good too - depends on how spicy the paste is) 2 heaped teaspoon coriander powder (coriander powder) ½ teaspoon cumin powder (Jeeru (Cumin)) ½ tumeric /arad (Turmeric)/ haldi 1 teaspoon coarse chilli flakes (heat dependant)2 teaspoon rough salt (approximately)
6 large tomatoes (boiled,peeled, Liquidised /chopped /grated/ Liquidised) Half a tin of tomato puree (big tin)
2 large potatoes cut into cubes.
¼ teaspoon garam Masala
½ cup of green peas (boiled for a few minutes)
METHOD
Slice onions fine and braise in a little oil with all the whole spices and the green chilli.Once the onions are browned add in the wet and dry spices. Toss together until the spice aroma emits. Add in your mince and toss until the mince has changed Colour. (mince tends to clump together at this stage) Add 1 heaped teaspoon of rough salt. Close the pot, bring down the heat to medium and allow the mince to cook until the water has evaporated. Add in your tomatoes, puree and potatoes. Add in another teaspoon of salt. Lightly mix everything together, ensure the potatoes are well tucked in, close the lid and allow the liquid to reduce. Add a little water as you require.Add peas to curry and cook until done. In the final steam you may add some garam Masala or a mixed spice of your choice, and a good handful of chopped coriander/dhania (coriander)/cilantro. Garnish with coriander and serve with prepared rice. @saadia_b_
SOUS CHEF
40
75.8K
68

Creative expression, real, soul-full content...
Comments
Ordered By Newest
---
---
Suggest Recipes
You May Like
Good Old Fashioned Mince Curry And Rice is part of the
Rice Dishes
recipes category