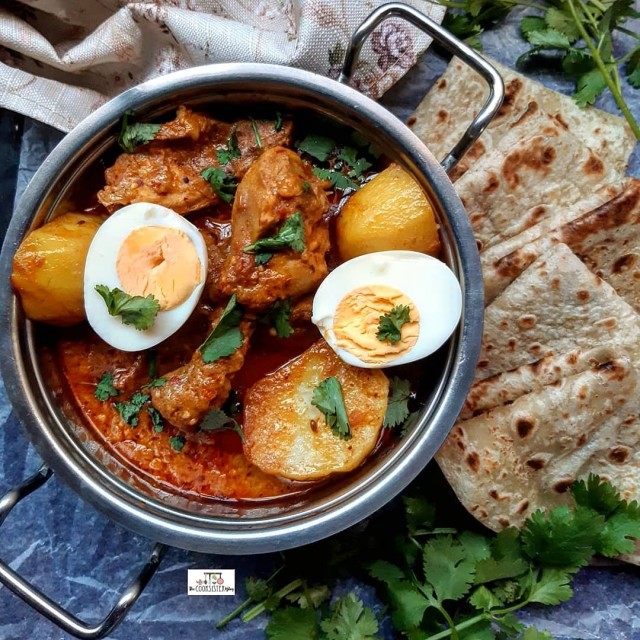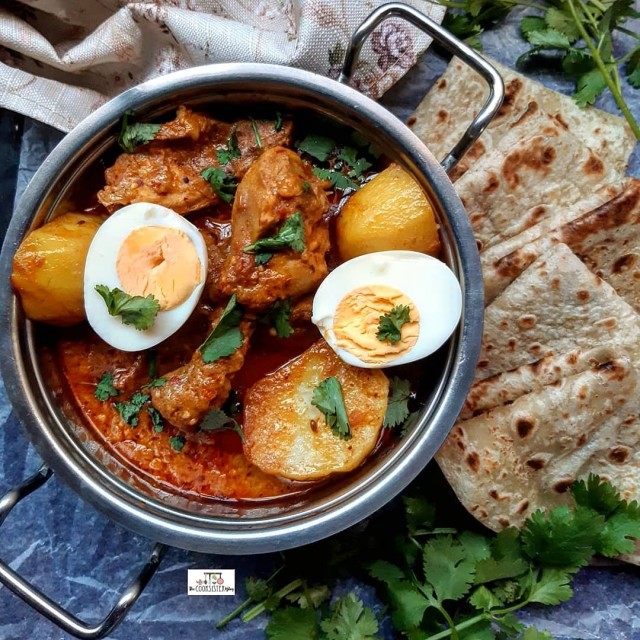 27
favs
1
coms
1.3K
views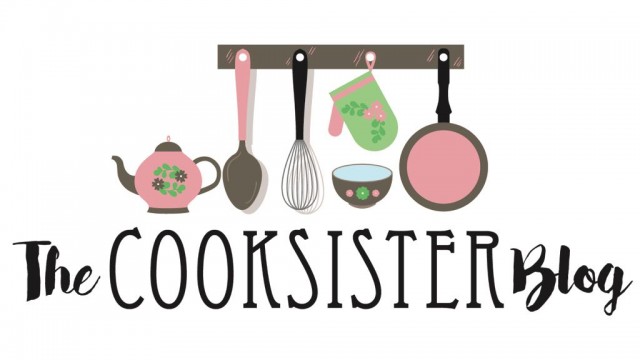 Thecooksisterblog
KITCHEN FUNDI
99
458.7K
241

Blogger • Food stylist and photography...
CREDITS
Recipe credit: Nasreen Patel


INGREDIENTS
1 kg chicken / mutton1 tablespoons ginger garlic1 tablespoons red chilli garlic paste1 ½ teaspoon salt1 teaspoon biryani / garam masala½ teaspoon saffron crushed2 tomatoes (chop / grate)¾ cup sour milk 1 cup onions (pre fried)1 teaspoon dhana Jeeru (Cumin) 1 teaspoon chilli powder 1 teaspoon crushed red chillies ½ teaspoon turmeric powder 1 teaspoon saffron essence ½ cup tomato puree 5 potatoes (quarted and pre fried) ¼ cup oil¼ cup ghee (Clarified butter) 1 teaspoon Jeeru (Cumin) seeds1 onion (sliced)2 - 3 green chillies slitCoriander (for garnish)
METHOD
Marinate meat in the above spices, best marinated over night or 3 - 4 hours. In a non stick flat pot heat oil, ghee (Clarified butter) add in Jeeru (Cumin) seeds, sliced onions and whole green chillies. Saute onions till light pink, add in marinated meat and cook till ¾ way done adding in 1 cup boiling water to help the cooking process as needed. Add in potatoes and cook for a further 10 minutes and adjust gravy to desired thickness.
Serve with boiled eggs and garnish with coriander.
Cooking time for chicken +- 45 minutes and mutton +- 1 hour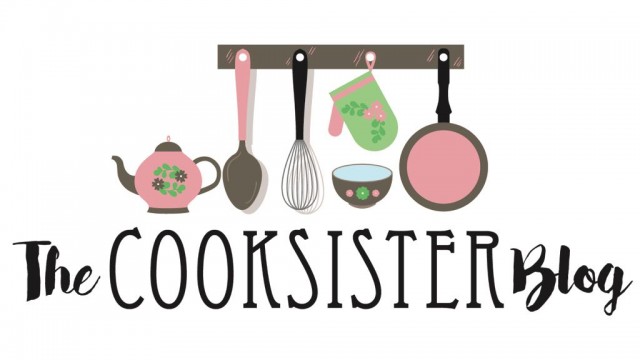 Thecooksisterblog
KITCHEN FUNDI
99
458.7K
241

Blogger • Food stylist and photography...
Comments
Ordered By Newest
---
---
Suggest Recipes
You May Like
Chicken / Mutton Kalyo is part of the
Chicken
recipes category