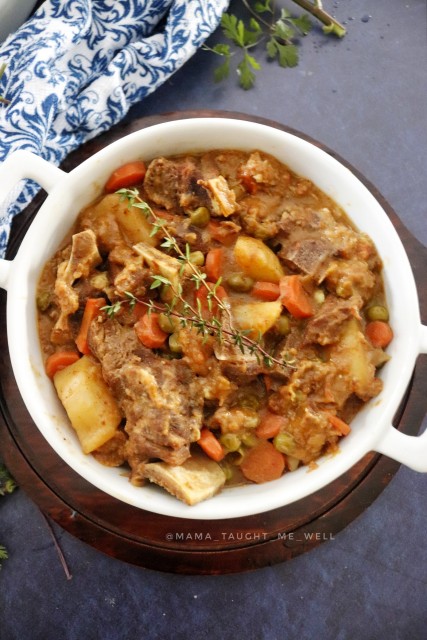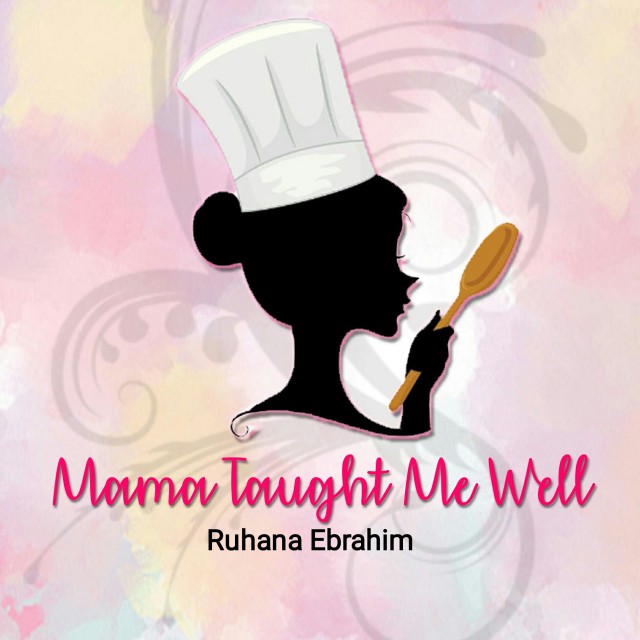 Ruhana Ebrahim
Grand Master
Food Blogger & Food Stylist.
Fusion Cooking.
Food Author.
Mum & Wife.
Interior Decorator.
South African.
---

South Africa
Joined 7 years ago
---
@mama_taught_me_well
CREDITS
Pic cred: Ruhana Ebrahim
Rec cred: @mama_taught_me_well


INGREDIENTS
1 large onion (sliced)2 bay leaves1 pc taj (cinnamon stick)3 tablespoon oil4 carrots (peeled, chopped)1kg chuck beef pieces1 tablespoon ground garlic paste1 tablespoon red ginger garlic masala¾ teaspoon salt1 teaspoon freshly cracked black pepper1 teaspoon dhana jeeroo (coriander cumin) powderPinch arad (Turmeric) (turmeric) powder1 teaspoon mild Kashmiri chilli powder2 tablespoon Worcestershire sauce50g sachet tomato pasteWater as needed (or beef broth)4 medium potatoes (peeled, cut into eights)½ cup Mc'Cains frozen peas1 packet Knorr butternut soup1 packet Knorr curry veg soupParsley (chopped)
METHOD
1. In a deep heavy based pot, add in onion, bay leaves, cinnamon stick and oil and saute onion until softened.2. Add in chopped carrots and cook together until onions turn golden.3. Add in garlic, masala and spices and braise until fragrant.4. Add in chuck meat and Worcestershire sauce.5. Mix and coat all over.6. Seal the beef, then add in the tomato paste and 2 cups water. 7. Cook on medium heat till water has reduced. 8. Add in potatoes and peas with another 2 cups water and cook until beef and potatoes are tender.9. Mix soups with 2 cups water and add to pot.10. Mix in well and heat through, stirring now and then until thickens to stew consistency. Garnish with parsley.
INFO & TIPS
a) The key to a beautiful stew is allowing it to simmer and gain flavor. An instant pot can be used to cut down cooking time, but I do it the old fashioned way.
a) This recipe can be substituted with mutton instead of beef.
b) If I'm adding bread dumplings to the stew, I double the dumplings recipe that I shared. I also don't thicken the stew as the gravy needs to be wet for the dumplings to steam and it absorbs the gravy, so there would be no gravy left. For precaution I always add in another cup of water and mix in. I prepare my dumpling dough and bring the stew to a light boil.
I work quickly spooning the dumpling dough in, and then close the pot quickly, placing something heavy over it. Allow it to cook for the 15min stated in the dumplings recipe.
POSTED ON
16 Jul 2020
WOULD YOU LIKE TO ?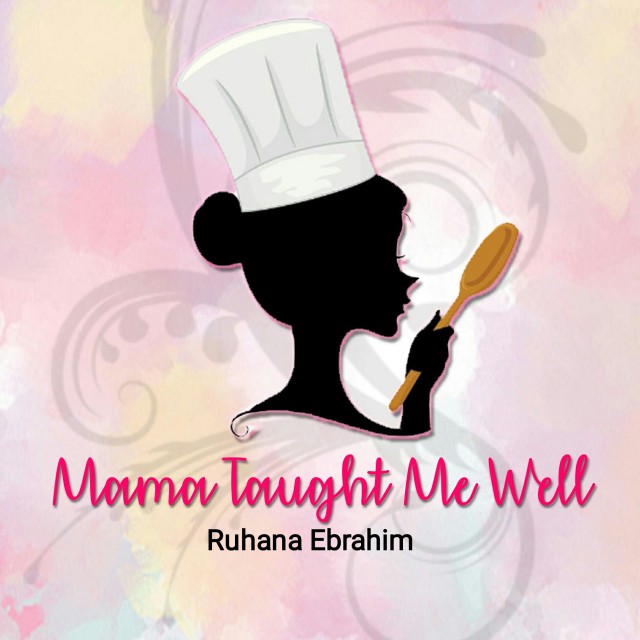 Ruhana Ebrahim
Grand Master
Food Blogger & Food Stylist.
Fusion Cooking.
Food Author.
Mum & Wife.
Interior Decorator.
South African.
---

South Africa
Joined 7 years ago
---
@mama_taught_me_well
COMMENTS
You May Also Like
Suggest Recipes