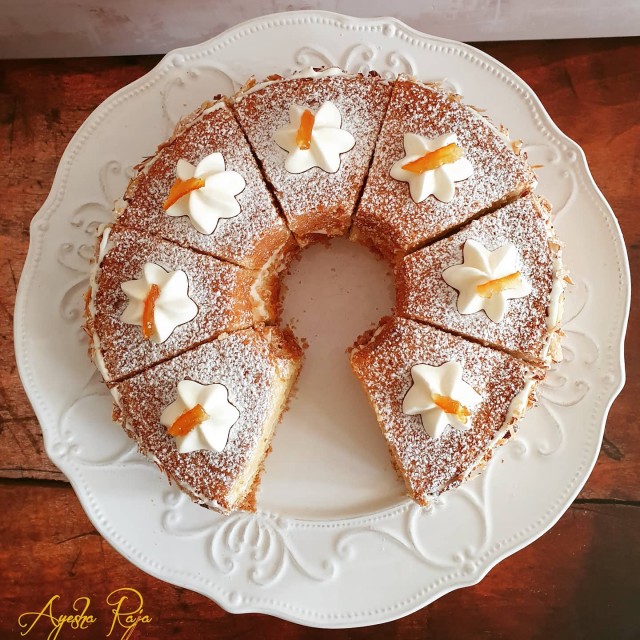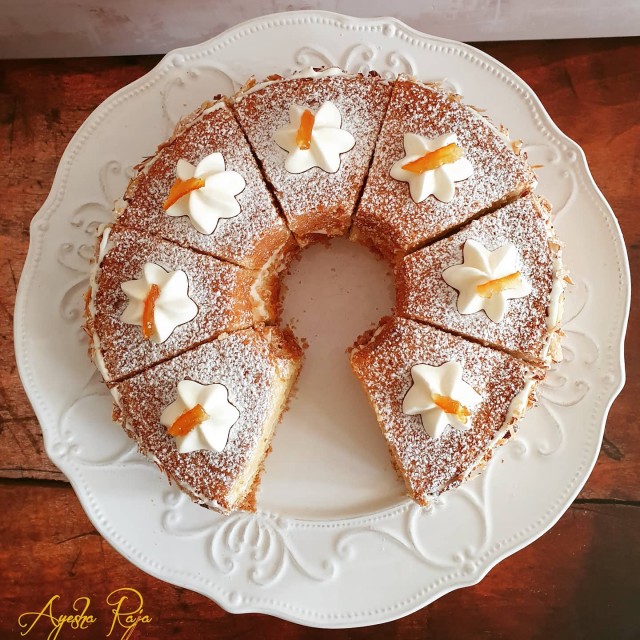 11
favs
0
coms
0.9K
views
CREDITS
@ayesha_raja_ (pic credit)
Taken from a library book


INGREDIENTS
185g butter165g castor sugar1 teaspoon vanilla essence3 eggs60ml milk225g self raising flour
Orange filling :160g orange marmalade - warm in microwave, then strain. Set aside some rind for decor.
Fresh cream filling :200ml fresh cream2-3 tablespoon icing sugarWhip together until stiff.
Almonds :Slice and toast slightly.
METHOD
Beat butter, sugar and vanilla until light and fluffy.Add eggs one at a time, beating well after each addition.Add flour and milk alternately. Bake in a 20cm ring pan at 160C for approximately 30-35 minutes.Cool and split into 2 layers.
Decorate :On bottom layer, spread marmalade, then fresh cream.Place top layer over, then ice sides with fresh cream.Press flaked almonds onto sides.Cut cake into 8 pieces.Pipe fresh cream onto each piece, then top with a bit of orange rind.Dust with icing sugar.
INFO & TIPS
Variations :
This can be made with your own favourite ring cake recipe, then varied with other flavour options :

-choc cake with mousse filling, topped with fresh cream and chocolate pieces
-vanilla cake with strawberry jam, topped with fresh cream and cut strawberries
-vanilla cake with lemon curd, topped with fresh cream and lemon rind
Comments
Ordered By Newest
---
---
Suggest Recipes
You May Like
Orange Marmalade Cake is part of the
Cakes
recipes category