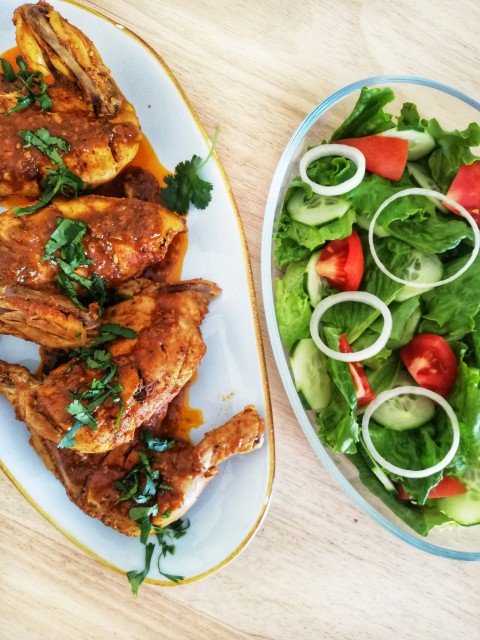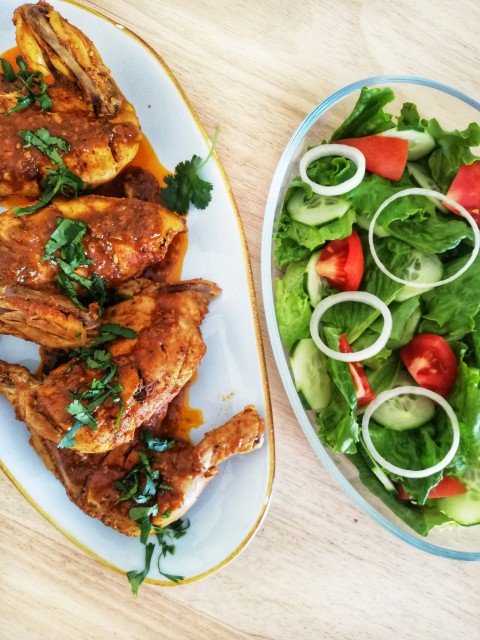 50
favs
0
coms
1.7K
views @saadia_b_
SOUS CHEF
38
57.8K
60

Creative expression, real, soul-full content...
CREDITS
Recipe credit : @cosmochefs
Pic credit : @saadia_b_


INGREDIENTS
2 chickens, cut into portions 2 teaspoon ginger garlic 2 teaspoon chilli powder 1 teaspoon garum Masala 1 teaspoon white pepper ¼ teaspoon turmeric powder 1 ½ teaspoon salt ½ teaspoon mustard powder1 tablespoon oil 3 tablespoon lemon juice 3 cloves 3 cinnamon sticks 3 cardamom pods
¼ teaspoon crushed saffron (I doubled) 3 tablespoon water 5 tablespoon tomato puree
4 tablespoon ghee (Clarified butter) 1 cup water
METHOD
Wash and drain chicken Combine all the marinade ingredients, cloves, cinnamon, cardamom and add to chicken. Boil the crushed saffron and water. Pour saffron water over chicken and add the tomato puree. Marinate the chicken for 3-4 hours. Place marinated chicken in a pan. Heat the ghee (Clarified butter) on high heat in a frying pan and pour over chicken. Cook the chicken on high heat for 5 minutes and then add the water. Lower heat and cook on medium low heat until chicken is tender. . P. S don't skip the mustard powder and garum Masala. 😍❤️ @saadia_b_
SOUS CHEF
38
57.8K
60

Creative expression, real, soul-full content...
Comments
Ordered By Newest
---
---
Suggest Recipes
You May Like
Saffron Chicken is part of the
Chicken
recipes category