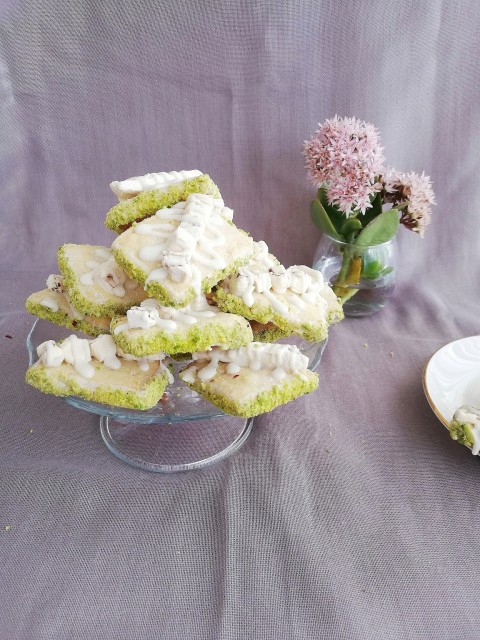 @saadia_b_
Sous Chef
Creative expression, real, soul-full content
---

South Africa
Joined 3 years ago
---
@saadia_b_
CREDITS
Recipe credit : Mias farm
Yields approx : 45
@saadia_b_


INGREDIENTS
250 grams butter1/2cup ground / diced almonds (roasted for a nice flavour),½ cup maizena (corn flour)½ cup icing sugar2cups flour (that's for the biscuit dough.) (I used slightly less)
METHOD
Beat butter, almonds, maizena (corn flour) and icing sugar till creamy, form dough with flour._Roll out a bit thick and cut out in ovals or shape of choice and bake like normal biscuits. 160C on fan assisted and 170C on a standard oven. They brown quickly. . Dip the sides in white choc, then in ground pistachio. Chop soft and fresh nougat into very tiny pieces, and stick with white chocolate. You may cut into long thin strips as well for a smoother look. Drizzle some white chocolate over, and dust with glitter. P. S - Store in an airtight container to ensure the nougat remain soft and fresh. 100g pistachio was sufficient. 250g white choc was sufficient I added a few drops of rose essence into the white choc. (adds more depth to the flavours, don't miss this 😍) . Fresh homemade nougat to pipe :(( Alternatively you may make fresh nougat and pipe, while hot, onto the whole biscuit in a continous 's' shape (begin at an angle) . Nougat5 oz icing sugar4 oz honey,1 oz powdered glucose2 egg whites
MethodBeat everything together on double boiler until thick and glossy. Pipe with nougat on the top.))
Pictured above is a mix of chopped nougat and long strips.
POSTED ON
31 Oct 2020
WOULD YOU LIKE TO ?

@saadia_b_
Sous Chef
Creative expression, real, soul-full content
---

South Africa
Joined 3 years ago
---
@saadia_b_
COMMENTS
You May Also Like
Suggest Recipes