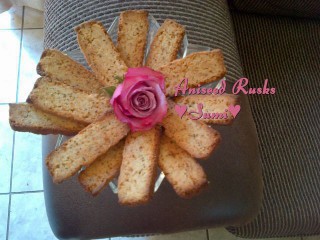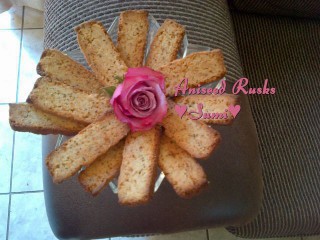 INGREDIENTS
4 cups flour
6 teaspoon aniseed
8 teaspoon bakin powder
Pinch salt
1 egg
1 cup sugar
250 g magrine melted
1 cup sour milk




METHOD
Mix everything 2gther in baking machine
Pat in 2 loaf tins (one narrow one ñ∂ 1 broad one)
Bake @ 180 4 1 hour
Remove 4m tins ñ∂ leave. Cut in2 slices the nxt day ñ∂ return 2 oven ñ∂ bake on 150 turning in between.
Taste lyk the ouma rusks ҵ buy in shops.

»̶ S̶̲̥̅̊um̶̲̥̅̊​A̶̲̅Ýa̶̲̥̅̊н̣̇ «̶ إبراهيم.
INFO / TIPS / CREDITS
Tip

Wen mkin again ommit d. Aniseed and add 3 cups ӑℓℓ bran flakes.

Comments ordered by Newest
---